News
August 1, 2017
2017 Honda Clarity Electric Begins Arriving at California and Oregon Dealerships
Honda's all-new, spacious, five-passenger, zero-emissions electric vehicle now on-sale in California and Oregon $269 per month lease includes 20,000-miles per year and 24/7 roadside...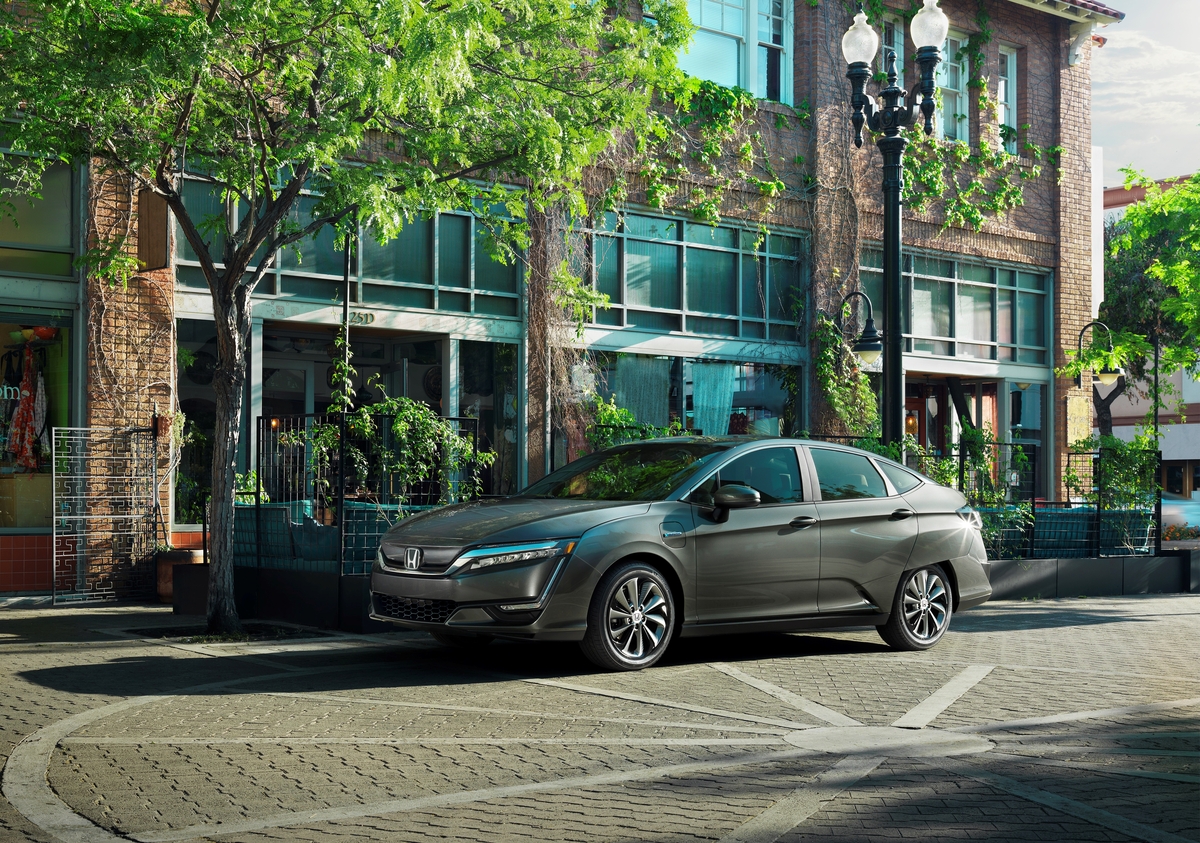 Honda's all-new, spacious, five-passenger, zero-emissions electric vehicle now on-sale in California and Oregon
$269 per month lease includes 20,000-miles per year and 24/7 roadside assistance
California and Oregon customers may qualify for a $2,500 state rebate
TORRANCE, Calif., August 1, 2017 – Honda today announced the arrival of the 2017 Honda Clarity Electric sedan at select dealerships in California and Oregon. With a competitive introductory lease price of $269 (plus tax) a month for 36 months, the lease terms include an attractive allowance of 20,000 miles per year and 24/7 roadside assistance. The lease, which reflects a federal tax credit built in, requires $1,730 down plus the first month's lease payment due at signing (not including tax, registration or official fees).[1] In addition, if they apply, California and Oregon customers may qualify for their state's rebates of $2,500 once they become available.[2]
The Clarity Electric sedan is powered by a 161-horsepower (120-kilowatt) electric motor producing 221 lb.-ft. of torque and drawing power from a 25.5-kWh lithium-ion battery pack. The vehicle can be fully charged in just over three hours at 240 volts and when using DC fast charging with the SAE Combined Charging System, it can achieve an 80 percent charge in just 30 minutes. The Clarity Electric has an EPA fuel economy rating of 126/103/114 MPGe (city/highway/combined)3 and an EPA range rating of 89 miles on a full charge.[3]
The Clarity Electric is part of Honda's Clarity series, which includes the Clarity Fuel Cell, launched in December 2016, and the Clarity Plug-in Hybrid, launching nationally later this year. Clarity is the first ever vehicle series offering customers an array of electrified powertrain choices in one sophisticated, spacious and comprehensively equipped five-passenger sedan. The Clarity series is part of the Honda Electrification Initiative that sees Honda expand the number and types of electrified vehicles in its product lineup. This initiative also includes a new dedicated hybrid car launching next year and the expanded application of Honda's two-motor hybrid and plug-in hybrid powertrains to multiple car and light truck models in the future. This initiative contributes to Honda's intention to have two-thirds of its global automobile sales come from electrified vehicles by 2030.
Comfortable, Versatile and Smartly Equipped
The 2017 Honda Clarity Electric sedan is geared toward consumers who desire a spacious, comfortable and affordable sedan that suits their daily driving needs. It is offered in a premium Touring trim and is the only affordable 5-passenger EV sedan with all the technology features, safety features and premium features that consumers expect today.
Unique exterior design elements set the aerodynamic Clarity Electric apart from other Clarity models, including a model-exclusive Cobalt Blue Pearl exterior color, along with differentiated front styling, headlights, tail lamps, and unique 18-inch alloy wheel finish. Like other Clarity models, the Clarity Electric has a spacious interior with comfortable seating for five adults and outfitted with premium, environmentally responsible materials, 8-inch Display Audio with Android Auto™ and Apple CarPlay™ compatibility, and the Honda Sensing® suite of safety and driver-assistive technologies.
For More Information
Additional media information, including high-resolution images of the 2017 Honda Clarity Electric, is available at http://hondanews.com/honda-automobiles/channels/Electric.
About Honda
Honda offers a full line of reliable, fuel-efficient and fun-to-drive vehicles with advanced safety technologies sold through more than 1,000 independent U.S. Honda dealers. The Honda lineup includes the Fit, Civic, Accord and Clarity series passenger cars, along with the HR-V, CR-V and Pilot sport/utility vehicles, the Ridgeline pickup and the Odyssey minivan. Honda has been producing automobiles in America for 34 years and currently operates 19 major manufacturing facilities in North America. In 2016, more than 95 percent of all Honda vehicles sold in the U.S. were made in North America, using domestic and globally sourced parts.
# # #
[1] Includes down payment with no security deposit. Excludes taxes, registration, license and dealer fees. For well-qualified lessees. Subject to availability to California and Oregon residents on approved credit through Honda Financial Services. Closed end lease for 2017 Honda Clarity Electric for well-qualified lessees. Not all applicants will qualify. No purchase option at lease end. Total monthly payments $9,684. Lessee responsible for maintenance, excessive wear/tear, and 20 cents per mile over 20,000 miles per year. Lease includes Roadside Assistance. Total due at lease signing is $1,999 plus tax and registration and includes first month's payment and capitalized cost reduction of $1,730. Offer subject to change without notice.
[2] The Oregon rebate program is anticipated to be operational in 2018, with a waitlist potentially established beforehand; please visit http://www.oregon.gov/deq/aq/programs/Pages/ZEV-Rebate.aspx for more information. The California rebate program is anticipated to be funded for the 2017-2018 budget year; please visit https://cleanvehiclerebate.org/eng for more information.
[3] Based on 2017 model-year EPA ratings. Use for comparison purposes only. Your MPGe and range will vary depending on driving conditions, how you drive and maintain your vehicle, lithium-ion battery pack age/condition and other factors.
Twitter
Error: Could not authenticate you.