Eight Honda and Acura 2021 model year vehicles received an IIHS Top Safety Pick rating.
Data Points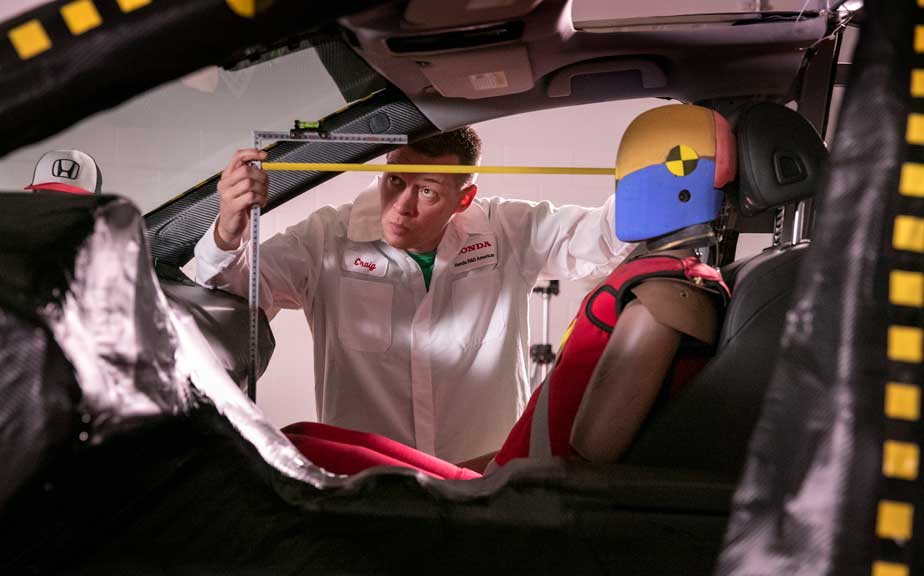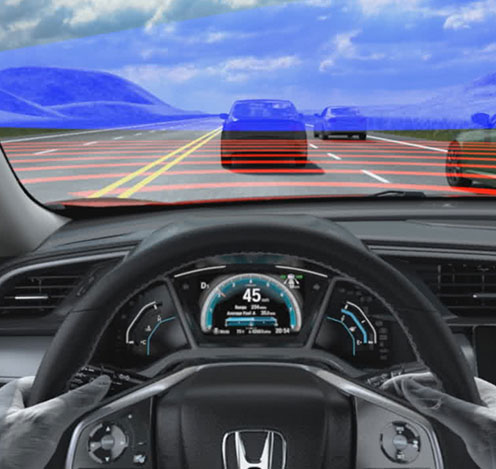 Driver Assistive Technologies

With the ultimate aim of a zero-collision society, Honda has deployed its Honda Sensing® and AcuraWatch® suites of advanced safety and driver-assistive technologies in more than one million vehicles on U.S. roads.

AWARD-WINNING NEXT-GENERATION AIRBAG

Our world's first passenger front airbag conceived by Honda engineers in Ohio is a major leap forward, designed to cradle and protect the head to reduce the chance of severe brain trauma associated with angled frontal collisions. This new airbag is featured in both the 2021 Acura TLX and 2022 Acura MDX.

FIGHTING COUNTERFEIT AIRBAGS

Honda has led an industry-wide bipartisan effort to enact laws in 26 states that prohibit the trafficking of counterfeit airbags. That means more than half of America is now protected against these dangerous and potentially lethal counterfeit airbags.
Pedestrian Injury Mitigation Design

All model year 2008 and newer Honda and Acura vehicles feature pedestrian injury mitigation design features such as breakaway wiper pivots and collapsible hood hinges, totaling more than 10 million vehicles purchased by U.S. customers to date (except the S2000 which was discontinued in MY2010).

Innovation in Injury Prevention

Honda has broadened the scope of its effort to mitigate pedestrian injuries by developing the third generation pedestrian dummy, POLAR III, to study lower back and upper leg injuries which are common in collisions between a pedestrian and a minivan or SUV.
Connected Vehicle Technology
Seeking innovative solutions to enhance vehicle safety, Honda is a member of the Crash Avoidance Metrics Partnership to further develop the application of Dedicated Short Range Communication in vehicle-to-vehicle and vehicle-to-infrastructure technology. These applications warn drivers of potential hazards coming from vehicles that cannot be seen. In conjunction with the U.S. Department of Transportation, Honda is participating in the Connected Vehicle Safety Pilot Driver Acceptance clinics held nationwide to assess how drivers accept and respond to the safety technology.
Honda and Verizon Test How 5G Enhances Safety for Connected and Autonomous Vehicles

Through their partnership with the University of Michigan's Mcity, a test bed for connected and autonomous vehicles, Honda and Verizon are teaming up to research how new connected safety technology using 5G and mobile edge computing (MEC) could ensure fast, reliable communication between road infrastructure, vehicles and pedestrians sharing the road, thus reducing collisions and saving lives.

2021 TLX Advances Acura's Commitment to Safety Performance

The all-new 2021 Acura TLX, arriving at dealerships this fall, continues Acura's "Safety Through Innovation" approach to enhancing safety performance with the introduction of a world's first passenger front airbag designed to address the issue of severe brain trauma commonly associated with angled frontal collisions.

Honda head of Crash Safety Engineering meets crash survivor, Kyle

Honda Principal Engineer of Crash Safety, Brian Bautsh, and collision-survivor Kyle get a chance to meet at the Los Angeles Auto Show.

Honda believes in Safety for Everyone, and it all starts with valued feedback from customers like Kyle. Our engineers are inspired every day by stories like Kyle's, which helps us improve the overall safety of each Honda vehicle.

Safety for Everyone – Nicole's Story

We're passionate about #SafetyForEveryone. Collisions affect more than the people involved—like an emotional domino effect. See what this meant for Honda HR-V driver Nicole and her family after she walked away from a severe crash.

https://automobiles.honda.com/safety

https://automobiles.honda.com/safety

For more Honda content, follow us on social:
Facebook – https://www.facebook.com/honda
Twitter – https://twitter.com/honda
Instagram – https://www.instagram.com/honda/
Pinterest – https://www.pinterest.com/honda/
Snapchat – https://snapchat.com/add/officialhonda
LinkedIn – https://www.linkedin.com/company/american-honda-motor-company-inc-/

This FREE Airbag Repair Could Save Your Life

Millions of vehicles are affected by the Takata airbag inflator recall. Yours could be one of them. Take a few minutes to check your vehicle identification number at nhtsa.gov/recalls. Waiting even a day could be the difference between life and death.

Honda Announces New Goal for Highly-Automated Driving Systems

Honda is targeting 2025 for the introduction of vehicles with highly-automated driving systems installed. The company recently demoed automated driving capabilities on a multi-lane freeway, and introduced advanced artificial intelligence (AI) with Deep Learning capability in an urban driving scenario. Highly-automated driving is part of Honda's vision for a collision-free society.

Honda Demonstrates Advanced V2P and V2M Safety Technologies

Honda demonstrated two experimental safety technologies aimed at reducing the potential for collisions between automobiles and pedestrians and between automobiles and motorcycles. First, Honda R&D has successfully demonstrated the ability of a car equipped with Dedicated Short Range Communications (DSRC) technology to detect a pedestrian with a DSRC enabled smartphone. The other, Honda's Vehicle-to-Motorcycle (V2M) technology can determine the potential for a collision between a DSRC equipped motorcycle and automobile. Honda's press release has more.

A Counterfeit Ballet

See side-by-side tests of counterfeit and original airbags in this short, one-minute video.

2014 Honda Odyssey driver-side small overlap IIHS crash test

2014 Honda Odyssey 40 mph driver-side small overlap IIHS crash test

Overall evaluation: Good

Full rating at https://www.iihs.org/ratings/vehicle/honda/odyssey-minivan/2014.

Subscribe: https://go.iihs.org/subscribe
View Our Website: https://www.iihs.org/

Follow us:
Twitter: https://twitter.com/IIHS_autosafety
Facebook: https://www.facebook.com/iihs.org/
Instagram: https://go.iihs.org/instagram