News
April 22, 2016
Acura Heads to New Orleans Jazz & Heritage Festival; Amps up Annual Music Support in the Big Easy with Expanded Partnerships
Apr 22, 2016 – TORRANCE, Calif. 2016 marks Acura's 17th year of continued sponsorship of Jazz Fest Acura adds new activations to engage festivalgoers...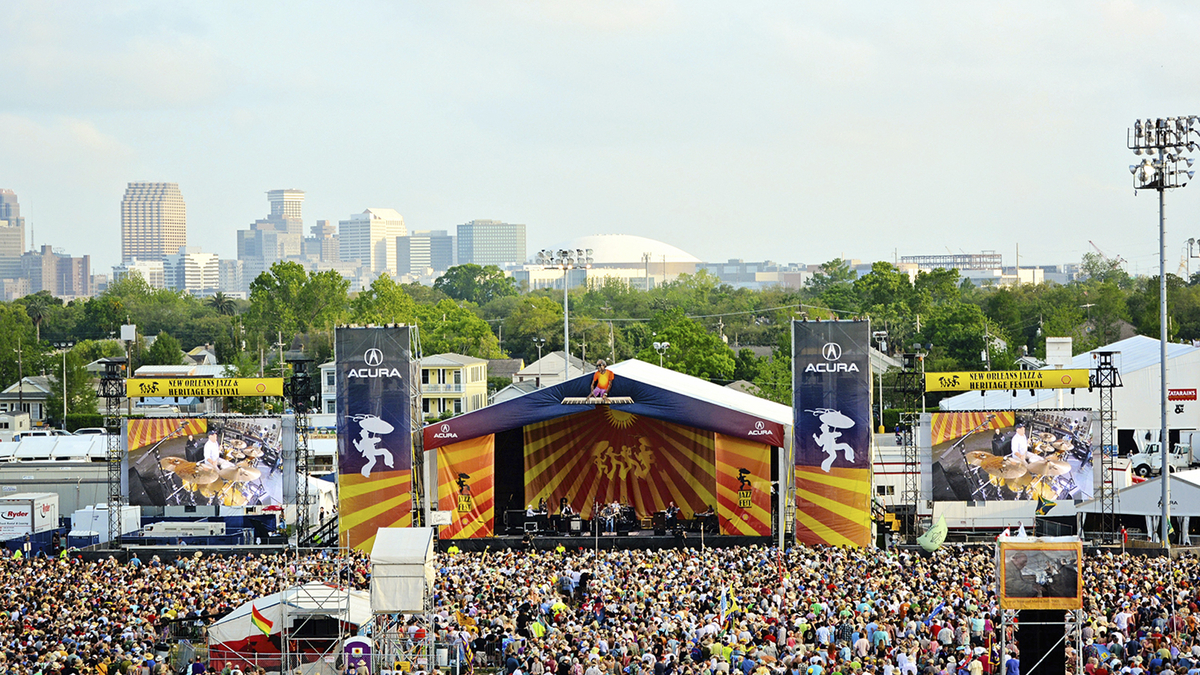 Apr 22, 2016 - TORRANCE, Calif.
2016 marks Acura's 17th year of continued sponsorship of Jazz Fest
Acura adds new activations to engage festivalgoers and give back to the New Orleans community including sponsorship of Trombone Shorty Foundation's Shorty Fest 2016 and "Trad Fridays" at New Orleans Center for Creative Arts
Acura is returning to the New Orleans Jazz & Heritage Festival as the official automotive and main stage sponsor beginning Friday, April 22 and running through Sunday, May 1. This year marks the automaker's 17th year in partnering with Jazz Fest to celebrate the unique culture and heritage of New Orleans alongside nationally and internationally renowned musical artists. Also in 2016, Acura is expanding its support of the arts in The Big Easy with local music partnerships.
Acura will again host the Main Stage -- the "Acura Stage" -- with a diverse range of performances by some of the world's most accomplished musicians including Stevie Wonder, Pearl Jam, Red Hot Chili Peppers, Neil Young, Paul Simon and Trombone Shorty & Orleans Avenue, among others.
New for 2016: Acura Expands New Orleans Footprint
In conjunction with the Trombone Shorty Foundation, Acura is the official automotive sponsor of the Shorty Fest benefit concert hosted by Troy "Trombone Shorty" Andrews, who is marking his fourth year closing out the Acura Stage at Jazz Fest. Additionally this year, Acura will donate several Acura VIP Packages to the silent auction at the House of Blues to benefit the Foundation.
Also new this year, Acura is presenting "Trad Fridays" at the New Orleans Center for Creative Arts (NOCCA), a celebration of teaching traditional brass-band street music to the classically trained students at NOCCA. "Trad Fridays" is a new program launched in 2016 by The Trombone Shorty Foundation in partnership with NOCCA where notable brass-band legends lead a series of four classes each semester. The student band from NOCCA is set to perform at Shorty Fest 2016 and officially announce Acura's sponsorship of this semester's classes.
"Acura has a long history with the New Orleans Jazz & Heritage Festival and we are excited about broadening that relationship with local arts education programs through our expanding collaboration with Trombone Shorty," said Jon Ikeda, vice president of Acura Sales. "Support of the arts is very important to the Acura brand, and extending that to local student performers supported by the Trombone Shorty Foundation will help foster the next generation of dynamic musicians."
As part of the Jazz Fest partnership activation, Acura will present its full model lineup of vehicles in the Acura Product Experience tent, which includes five display vehicles, top-of-the-line listening booths set up inside Acura MDX and RDX models, virtual reality driving games, a green screen photo booth featuring the NSX Supercar and more. The Acura Product Experience is open to the public and provides select lucky festival attendees the chance to win access to the exclusive Acura VIP Lounge and special passes to the Acura side stage.
For Jazz Fest 2016, fans are able to enter the "Acura Tweet Your Way to the Front Row" sweepstakes on Twitter for VIP festival front row access by tweeting Jazz Fest photos tagged with #AcuraLive and #SweepsEntry.
For the full lineup of artists and more information on the New Orleans Jazz & Heritage Festival, visit www.nojazzfest.com.
For more information on Shorty Fest 2016 and the Trombone Shorty Foundation, visit www.tromboneshortyfoundation.org.
For More Information
Consumer information is available at www.acura.com. To join the Acura community on Facebook, visit facebook.com/Acura. Additional media information including pricing, features and high-resolution photography is available at acuranews.com/channels/acura-automobiles.
About Acura
Acura is a leading automotive luxury nameplate that delivers Precision Crafted Performance through advanced product design and innovative technologies like Acura Super Handling All-Wheel Drive (SH-AWD) and Precision All-Wheel Steer (P-AWS). On March 27, 2016, Acura will celebrate the 30th anniversary of its launch as the first luxury nameplate from a Japanese automaker.
The Acura lineup features five distinctive models – the RLX luxury flagship sedan, the TLX performance luxury sedan, the ILX sport sedan, the 5-passenger RDX luxury crossover SUV, and the seven-passenger Acura MDX, America's all-time best-selling three-row luxury SUV. This spring, Acura will launch its next-generation, electrified NSX supercar as a new and pinnacle expression of Acura Precision Crafted Performance.
# # #
Twitter
Error: Could not authenticate you.