News
February 12, 2016
Honda Aero Earns FAA Repair Station Certificate
Additional Certification for Facility Building the HF120 Turbofan Engine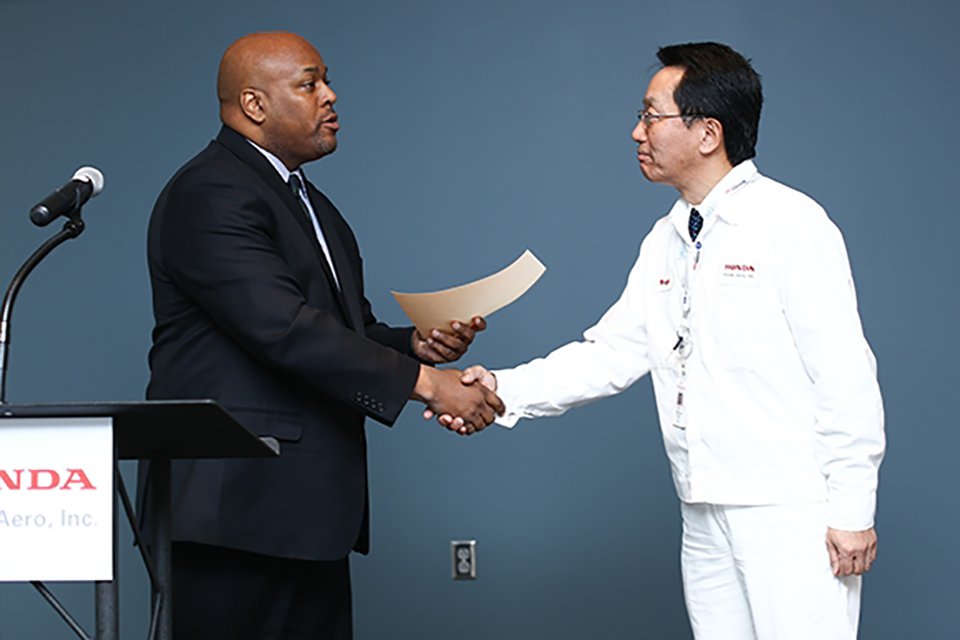 Feb 12, 2016—BURLINGTON, N.C.
Honda Aero, Inc. (HAI) today announced that its HF120 turbofan engine production facility in Burlington, N.C., has earned a PART 145 repair station certificate from the U.S. Federal Aviation Administration (FAA). This certificate will enable HAI to serve as the dedicated Maintenance, Repair and Overhaul (MRO) operation for the GE Honda Aero Engines HF120 Platform.
HAI received its FAA Production Certificate for the HF120 turbofan engine in March 2015, and will now have the ability to provide world-class maintenance, repair and overhaul service to customers. The HAI Burlington facility will be the dedicated MRO shop for the GE Honda Aero Engines HF120 engine, which powers the HondaJet, and began customer deliveries in December 2015. The HF120 is also available for other airframe applications.
"This is a significant milestone for Honda Aero made possible by the challenging spirit of our team of associates," said Honda Aero President Atsukuni Waragai. "By combining production and maintenance operations on one campus we will better serve our customers of today and tomorrow."
The HAI MRO operations is co-located with the production facility that builds the engine. This placement will allow the MRO engineers to more quickly feed back any experience from the engine's in-service performance to the engine design and production; thereby providing a quality product which is expected by Honda customers.
In addition to engine assembly and the MRO functions, the Burlington plant features a state-of-the-art test cell and parts warehouse.
About Honda Aero, Inc.
Honda Aero, Inc. (HAI) conducts parts procurement, assembly and testing of jet engines at its 82,000-square-foot facility, located adjacent to the Burlington-Alamance County regional airport in Burlington, North Carolina. HAI also provides engine maintenance and overhaul services for its customers at its Burlington facility.
About GE Honda Aero Engines
GE Honda Aero Engines, is a 50/50 joint venture between GE and Honda and is based in Cincinnati, Ohio. The joint company integrates the resources of GE Aviation and Honda Aero, Inc., a Honda subsidiary established to manage its aviation engine business.
About Honda in North America
Honda established operations in America in 1959 and now employs more than 40,000 associates in its North American sales, R&D and manufacturing operations with total capital investment in North America exceeding $22 billion. Based on its longstanding commitment to "build products close to the customer," Honda operates 18 major manufacturing facilities in North America producing a wide range of Honda and Acura automobiles, automobile engines and transmissions, Honda all-terrain vehicles, power equipment products, such as lawn mowers, mini-tillers and general purpose engines, and the HondaJet advanced light jet. Honda also operates 14 major research and development centers in the U.S. with the capacity to fully design, develop and engineer many of the products Honda produces in North America.
Twitter
Error: Could not authenticate you.