News
October 9, 2018
Honda Celebrates 10 Years of Automobile Production in Indiana
Oct 9, 2018 – GREENSBURG, Ind. Honda Manufacturing of Indiana, LLC (HMIN) today marked its 10th anniversary of automobile production at its plant in Greensburg, Indiana...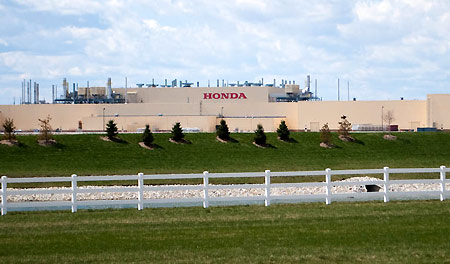 - GREENSBURG, Ind.
Honda Manufacturing of Indiana, LLC (HMIN) today marked its 10
th
 anniversary of automobile production at its plant in Greensburg, Indiana during a celebration with state and local government officials joining the celebration with Honda associates.
Honda began production in Indiana on October 9, 2008, producing the 4-cylinder Honda Civic Sedan with 1,000 associates on one shift. Today, HMIN operates two shifts with more than 2,500 associates producing the Honda Civic Sedan and CR-V – two of the industry's best-selling vehicles – as well as the all-new 2019 Honda Insight, a hybrid sedan. Cumulative production at HMIN is more than 1.8 million vehicles.
"This milestone is the result of the commitment our Honda associates in Indiana have made every day over the past decade to build products of the highest quality for our customers," said Isao Matsuzaki, president at HMIN. "Indiana is our home and with the strong support of our local communities, the state and beyond, we are excited about our future here in Greensburg."
Honda announced plans to build an auto plant in Greensburg in June 2006, breaking ground for the new plant in March 2007.  HMIN added a second shift of production in October 2011, doubling its production capacity to 200,000 vehicles per year. Today, HMIN has the capacity to produce 250,000 vehicles annually.
"Since launching production a decade ago today, Honda has had a lasting positive impact on the city of Greensburg, the southeast region and the entire state, helping propel our workforce and strengthen Indiana's reputation as a manufacturing powerhouse," said Indiana Secretary of Commerce Jim Schellinger. "With more than 290 Japanese business facilities in Indiana, we are proud of the friendships we have established with companies like Honda and look forward to even more milestones ahead. Congratulations on 10 years of excellence and thank you for your commitment to our state."
In its first decade of operation, HMIN has achieved a number of milestones and accomplishments, including:
HMIN was Honda's fourth U.S. auto plant, and its seventh in North America
HMIN has built six different models in its history, including the Honda Civic, CR-V and Insight, as well as the Civic Natural Gas, Acura ILX and ILX Hybrid
Production of Civics for export markets began in September 2009
HMIN earned the Platinum Plant award in the 2011 J. D. Power and Associates Initial Quality Study (IQS).
In 2017, HMIN began production of the Honda CR-V, the first SUV built at the plant and, earlier this year, production began of the all-new 2019 Honda Insight.
In 2017, HMIN purchased more than $2.2 billion in parts from 248 suppliers in the U.S.
Honda in Indiana
Honda Manufacturing of Indiana, LLC (HMIN) began operations in October 2008, and is now one of five Honda auto plants in the U.S. HMIN manufactures the Civic and CR-V for the U.S. and for export to markets outside of North America. With employment of more than 2,400 associates and capital investment exceeding $ 1 billion, HMIN has an annual capacity of 250,000 vehicles. In 2017, Honda spent more than $2.1 billion with 64 OEM suppliers in Indiana to support its regional operations.  Learn more at https://indiana.honda.com/
Twitter
Error: Could not authenticate you.