News
October 5, 2017
Honda Celebrates National Hydrogen and Fuel Cell Day with Continued Investment in Hydrogen Fuel Cell Technology and Infrastructure
On October 8, Honda is joining the nation in celebrating National Hydrogen and Fuel Cell Day (www.hydrogenfuelcellday.org) to raise awareness of fuel cell and...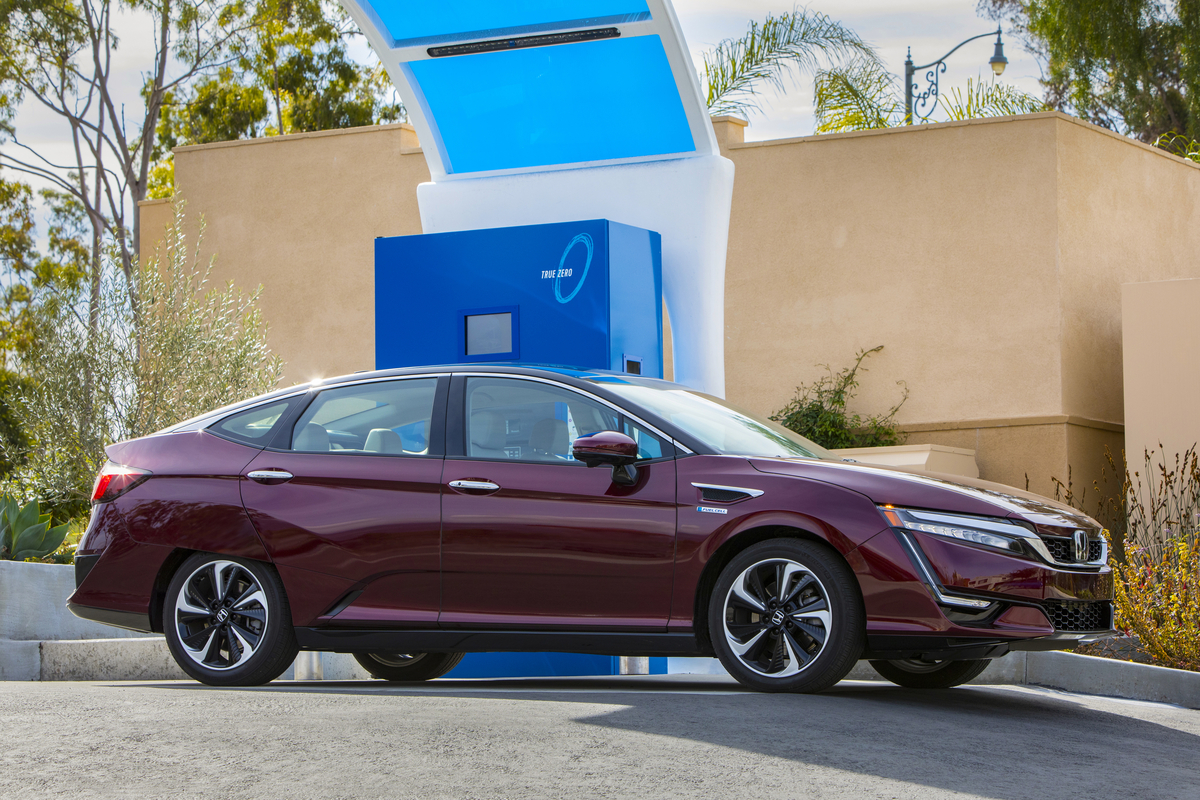 On October 8, Honda is joining the nation in celebrating National Hydrogen and Fuel Cell Day (www.hydrogenfuelcellday.org) to raise awareness of fuel cell and hydrogen technologies that can help to reduce greenhouse gas emissions while increasing the nation's energy security. The date is a reference to hydrogen's atomic weight of 1.008.
Honda is a leader in the development and deployment of advanced fuel cell vehicle technologies and today has more than 450 Clarity Fuel Cell vehicles – with an industry-leading 366-mile zero-emissions driving range rating1 – in the hands of customers. The company aims to have two-third of its global vehicle sales comprised of electrified vehicles, including fuel cells, plug-in hybrids, hybrids and battery-electric vehicles, by 2030.
"Honda envisions a day when fuel cell cars are the norm, and personal mobility is no longer incompatible with a clean and sustainable environment. That's our dream, and that's what powers our ongoing efforts to knock down the barriers to its mass market appeal," said Steven Center, vice president of Connected and Environmental Business Development at American Honda.
Honda Clarity Fuel Cell
Honda views fuel cells as the ultimate zero-emissions vehicle technology and the Clarity Fuel Cell offers green early adopters the latest technology to be on the forefront of "what's next." Honda began deliveries of the 2017 Clarity Fuel Cell in December 2016 in select California markets, where a consumer friendly network of hydrogen stations continues to grow, and has already delivered more than 450 vehicles.
At 366 miles, the Clarity Fuel Cell has the highest EPA driving range rating of any zero-emission vehicle in America, including fuel cell and battery electric vehicles, and an EPA fuel economy rating of 68 MPGe combined.1 The Clarity Fuel Cell is available for the competitive introductory lease price of $369 a month for 36 months with $2,868 due at signing.2 The lease terms include an attractive mileage allowance of 20,000 miles per year, up to $15,000 of hydrogen fuel, up to 21 days of an Avis Luxury Rental in California and 24/7 roadside assistance. The Clarity Fuel Cell is eligible for California "White Sticker" single occupant HOV access and lessees can also apply for the State of California $5,000 rebate.
Honda Fuel Cell Vehicle Leadership
Honda has led the industry for nearly two decades in the development and deployment of fuel cell vehicle technology through extensive real-world testing and customer deployments, including the first government fleet customers and first-ever retail consumer leasing program. Since the introduction of its first-generation fuel cell vehicle, the FCX, in 2002, Honda has made significant technological advancements in fuel cell vehicle operation in both hot and sub-freezing weather, while meeting customer expectations and safety regulations.
Honda has deployed fuel cell vehicles in the U.S., Germany and Japan, including the FCX Clarity, which was named the 2009 World Green Car. Honda has delivered these vehicles to individual retail consumers in the U.S. since 2005, and collected valuable feedback concerning real-world use of both fuel cell vehicles and public hydrogen refueling stations.
Honda Fuel Cell Vehicle Firsts
The first EPA- and CARB-certified fuel cell vehicle (July 2002)
The world's first production fuel cell vehicle, introduced to the U.S. and Japan (December 2002)
The first fuel cell vehicle to start and operate in sub-freezing temperatures (2003)
The first fuel cell vehicle leased to an individual retail consumer (July 2005)
The first manufacturer to build and produce a dedicated fuel cell vehicle (FCX Clarity) on a production line specifically made for fuel cell vehicles (2008)
The first manufacturer to create a fuel cell vehicle dealer network (2008)
Hydrogen Infrastructure Investments
Honda is participating in multiple ventures to grow a consumer friendly network of hydrogen stations. This includes a nearly $14 million investment with FirstElement Fuel to create 12 stations in the Los Angeles and San Francisco metro areas. Recently Honda announced with Shell and Toyota the introduction of seven new hydrogen refueling stations in Northern California, working toward the state's goal of 100 stations that leverages a grant from the California Energy Commission.
Honda is also active in associations like the Hydrogen Council, Fuel Cell & Hydrogen Energy Association, California Fuel Cell Partnership and H2 USA that share the same vision and goals to create the conditions necessary for hydrogen-powered mobility and the hydrogen economy to thrive and grow.
Honda Commitment to the Environment
Based on its vision of "Blue Skies for our Children," Honda is working to advance technologies that address society's environmental and energy concerns. Honda is targeting a 50 percent reduction in its total company CO2 emissions on a global basis by 2050, compared to 2000 levels. The company also is striving to realize significant growth in sales of electrified vehicles, which includes the introduction of the Honda Clarity series of vehicles, which began with the hydrogen-powered Clarity Fuel Cell vehicle, launched in 2016, followed by the new Clarity Electric, launched in August 2017, and Clarity Plug-In Hybrid, coming in 2017.
Honda is endeavoring to reduce the environmental impact of its products throughout their life cycles, including the reduction of energy use and emissions from its production, distribution and sales. This includes the Honda Environmental Leadership Award Program, through which more than 150 U.S. Honda and Acura dealers have reduced CO2 emissions by more than 34,000 metric tons.
About Honda
Honda offers a full line of reliable, fuel-efficient and fun-to-drive vehicles with advanced safety technologies sold through more than 1,000 independent U.S. Honda dealers. The Honda lineup includes the Fit, Civic, Accord and Clarity series passenger cars, along with the HR-V, CR-V and Pilot sport/utility vehicles, the Ridgeline pickup and the Odyssey minivan. Honda has been producing automobiles in America for 34 years and currently operates 19 major manufacturing facilities in North America. In 2016, more than 95 percent of all Honda vehicles sold in the U.S. were made in North America, using domestic and globally sourced parts.
# # #
1. 69 city / 67 highway / 68 combined miles per gallon of gasoline-equivalent (MPGe) rating; 366-mile driving range rating. Based on 2017 EPA ratings. Use for comparison purposes only. Your MPGe and driving range will vary based on how you drive and maintain your vehicle, driving conditions, powertrain condition, and other factors.
2. Includes down payment with no security deposit. Excludes taxes, registration, license and dealer fees. For well qualified lessees. Subject to availability beginning December 2016 to California residents on approved credit through Honda Financial Services. Closed end lease for 2017 Honda Clarity Fuel Cell for well qualified lessees. Not all applicants will qualify. No purchase option at lease end. Total monthly payments $13,284. Lessee responsible for maintenance, excessive wear/tear, and 20 cents per mile over 20,000 miles per year. Lease includes Roadside Assistance, up to $15,000 of hydrogen fuel, and up to 21 days Avis luxury rental car. Total due at lease signing is $2,868 plus tax and registration and includes first month's payment and capitalized cost reduction of $2,499. Offer ends December 31, 2017. Please see your authorized Honda Clarity dealer for complete details. Accessories sold separately. See Honda Clarity dealer for details.
Twitter
Error: Could not authenticate you.