News
March 8, 2017
Honda Clarity Plug-In Hybrid and Honda Clarity Electric to Make Worldwide Debut at 2017 New York International Auto Show
Mar 8, 2017 Clarity Plug-in Hybrid and Electric to join lineup with 2017 Clarity Fuel Cell Clarity series provides unparalleled choice with premium midsize...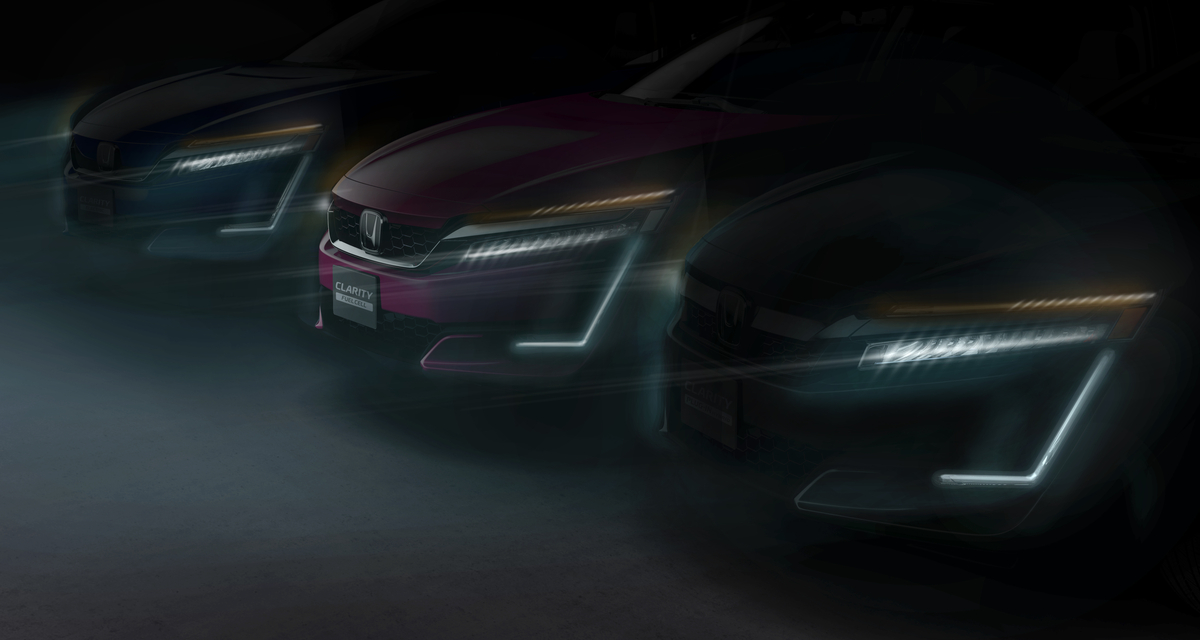 Clarity Plug-in Hybrid and Electric to join lineup with 2017 Clarity Fuel Cell
Clarity series provides unparalleled choice with premium midsize sedan capability and three available electric powertrain options
TORRANCE, Calif. – The all-new Honda Clarity Plug-in Hybrid and Honda Clarity Electric will make their worldwide debut at the 2017 New York International Auto Show. The two all-new, electrified Honda vehicles will make Clarity the first vehicle series to offer customers an expanded array of electrified vehicle choices with fuel cell, battery electric and plug-in hybrid powertrains wrapped in a sporty, spacious and comprehensively equipped five-passenger midsize sedan.
The Clarity series is at the vanguard of Honda's commitment to address society's energy and environmental concerns as the company expects significant growth in sales of electrified vehicles. Honda has announced its intention to make two-thirds of its global auto sales from electrified vehicles by 2030.
The official teaser sketch of the Clarity series released today includes the never-before-seen Clarity Plug-in Hybrid and Clarity Electric flanking the currently available Clarity Fuel Cell. As the next progression of Honda's dynamic styling for electrified products, each Clarity variant has a low, wide aerodynamic body with unique design elements. Combined with elegant and advanced exterior styling, the Clarity series boasts spacious interiors outfitted with premium, environmentally-responsible materials. Offering Honda "fun-to-drive" DNA, each Clarity variant provides a smooth, quiet and premium experience, with great dynamic handling plus seamless electric drive torque and acceleration. The Clarity series also features advanced technologies, including Display Audio with Android Auto™ and Apple CarPlay™, and standard Honda Sensing™ safety and driver-assistive technologies.
The Clarity Electric will be the first affordable, midsize, five-passenger battery electric vehicle (BEV). The third vehicle in the Clarity series, the Clarity Plug-in Hybrid, will launch in all 50 states and will be the volume leader in the series, combining an all-electric driving range rating in excess of 40 miles with a hyper-efficient gasoline-hybrid extended range mode.
About Honda
Honda offers a full line of reliable, fuel-efficient and fun-to-drive vehicles with advanced safety technologies sold through over 1,000 independent U.S. Honda dealers. The Honda lineup includes the Fit, Civic, Accord and Clarity Fuel Cell passenger cars, along with the HR-V, CR-V and Pilot sport/utility vehicles, the Ridgeline pickup and the Odyssey minivan. Honda has been producing automobiles in America for 34 years and currently operates 19 major manufacturing facilities in North America. In 2016, more than 96 percent of all Honda vehicles sold in the U.S. were made in North America, using domestic and globally sourced parts.

# # #
Clarity Fuel Cell is only offered in select California markets at this time.
Twitter
Error: Could not authenticate you.