News
March 22, 2019
Honda Environmental Leadership Program Wins 2019 Climate Leadership Award, Honors First Platinum-Level Powersports Dealer for Significant Energy Reduction
Mar 22, 2019 – TORRANCE, Calif. Program to Reduce its Dealers' Energy Footprint wins 2019 Climate Leadership Award Announces Platinum-level award for Honda of North...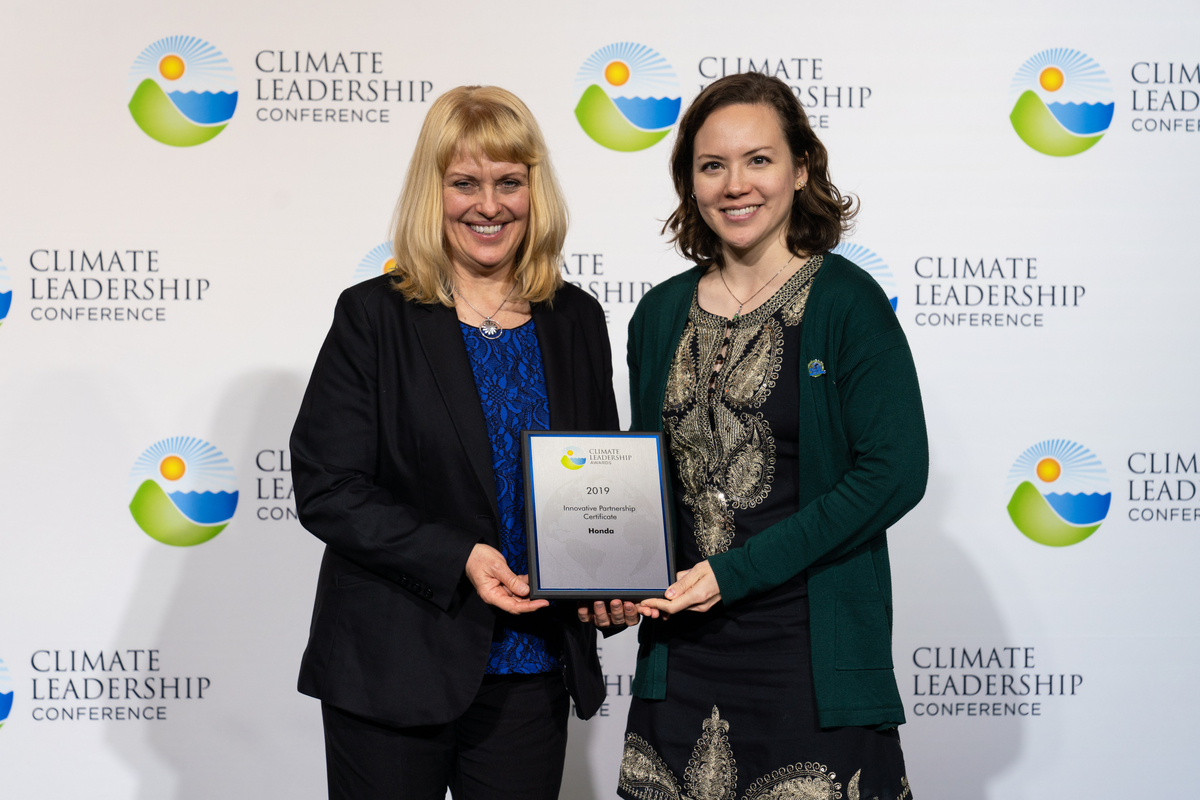 - TORRANCE, Calif.
Program to Reduce its Dealers' Energy Footprint wins 2019 Climate Leadership Award
Announces Platinum-level award for Honda of North Carolina; video available at https://honda.us/HondaEcoDealer
Adds new Energy Efficiency Leader recognition
Recognizing Honda's efforts to help measurably and verifiably reduce the carbon footprint of its independently-owned dealers, Honda was presented with an Innovative Partnership Certificate at the 2019 Climate Leadership Awards for its exemplary leadership in reducing carbon pollution and addressing climate change. The award, presented by The Climate Registry and The Center for Climate and Energy Solutions, acknowledged the results of the Honda Environmental Leadership Program which supports its independently-owned automobile, powersports, and power equipment dealers with tools to evaluate and measurably reduce energy and water use, saving them money while enhancing their environmentally-responsible business operations. Since the launch of the program in 2012, more than 800 dealerships voluntarily participate in the program and have collectively reduced their CO2 emissions by approximately 59,000 metric tons.
Concurrently with the awards ceremony, the Honda Environmental Leadership Program announced the first Platinum level award for a powersports dealership, honoring the North Carolina dealer for verifiably reducing its energy use by more than 50%.
The Climate Leadership Awards take place during the Climate Leadership Conference, which brings together forward-thinking leaders from business, government, academia, and the non-profit community to address climate change through policy, innovation, and business solutions.
"We're thrilled to receive the Climate Leadership Award for Innovative Partnerships on behalf of the Honda Environmental Leadership Program," said Annika Swenson, Honda Environmental Leadership Program Manager. "This recognition highlights the successful collaboration with our dealers and motivates us to continue our efforts to measurably reduce our impact on the environment."
"The Climate Registry applauds Honda and its dealers for their outstanding dedication to climate action," said Ann McCabe, interim executive director of The Climate Registry. "Honda is part of an incredibly important group of leaders who are accelerating the shift to a more sustainable future. We hope that their ability to bring about change will inspire and empower others to act."
First Honda Powersports Dealer Achieves Platinum Recognition
Honda of North Carolina is the first Honda Powersports dealer to be recognized with the Platinum Environmental Leadership Award. Owner and manager Jeff Carr and his sons built the dealership from the ground up, focusing on being good stewards of the land and taking steps to reduce their impact on the environment. A video about their efforts can be viewed at https://honda.us/HondaEcoDealer.
The Honda Environmental Leadership Program awards participating dealers at three levels of achievement based on an independent evaluation of dealership performance in the areas of energy and water efficiency, waste reduction, site attributes, and other sustainable best practices. More than 200 Honda dealers across all product lines, including automobile, powersports and power equipment, have received the Honda Environmental Leadership Award, earning Silver, Gold or top-level Platinum designations based on the results of their efforts to reduce energy use.
New Energy Efficiency Leader Recognition
To encourage continuous improvement among participating dealerships in the Environmental Leadership Program, Honda has added a new Energy Efficiency Leader recognition. This annual recognition will go to dealerships that have received a Silver, Gold or Platinum award and have demonstrated exceptional energy performance compared to other dealerships in their zone, based on their energy use per square foot of building space. To identify these leaders, Honda will compare each dealership's weather-normalized energy use intensity (EUI), which includes electricity, natural gas and other fuels the dealer may be using for things like heating the building. The recognition goes to the top two most efficient (lowest EUI) dealerships in each zone. In 2018, 33 dealerships were recognized as Energy Efficiency Leaders.
For more information on the Honda Environmental Leadership Program, please visit greendealer.honda.com.
Honda's Commitment to the Environment
Based on its vision of "Blue Skies for our Children," Honda is working to advance technologies that address society's environmental and energy concerns. The company intends for electrified vehicles to comprise two-thirds of its global automobile sales by 2030. In North America, the Honda Electrification Initiative will see Honda's electrified powertrain technologies applied to an expanding portfolio of cars and light trucks in the years ahead. Honda's electrified vehicle lineup today includes the Clarity series of vehicles, featuring fuel cell, battery electric and plug-in hybrid powertrains, along with the new Accord Hybrid and Honda Insight.
Honda is working to reduce the environmental impact of its products throughout their life cycle, including reducing waste, emissions and further improving the energy efficiency of producing, distributing and selling Honda and Acura products in North America. This includes a 93 percent reduction in waste sent to landfills from Honda plants in North America.
Through its green purchasing and green dealer initiatives, the company also is working to promote more environmentally responsible business practices with its more than 650 original equipment suppliers and 1,300 retail dealer partners.
Twitter
Error: Could not authenticate you.