News
May 3, 2016
Honda Honors its Top North American Suppliers
OEM and service parts suppliers earn awards at two-day event May 3, 2016 – INDIANAPOLIS Honda honored 93 North American auto suppliers for achievements...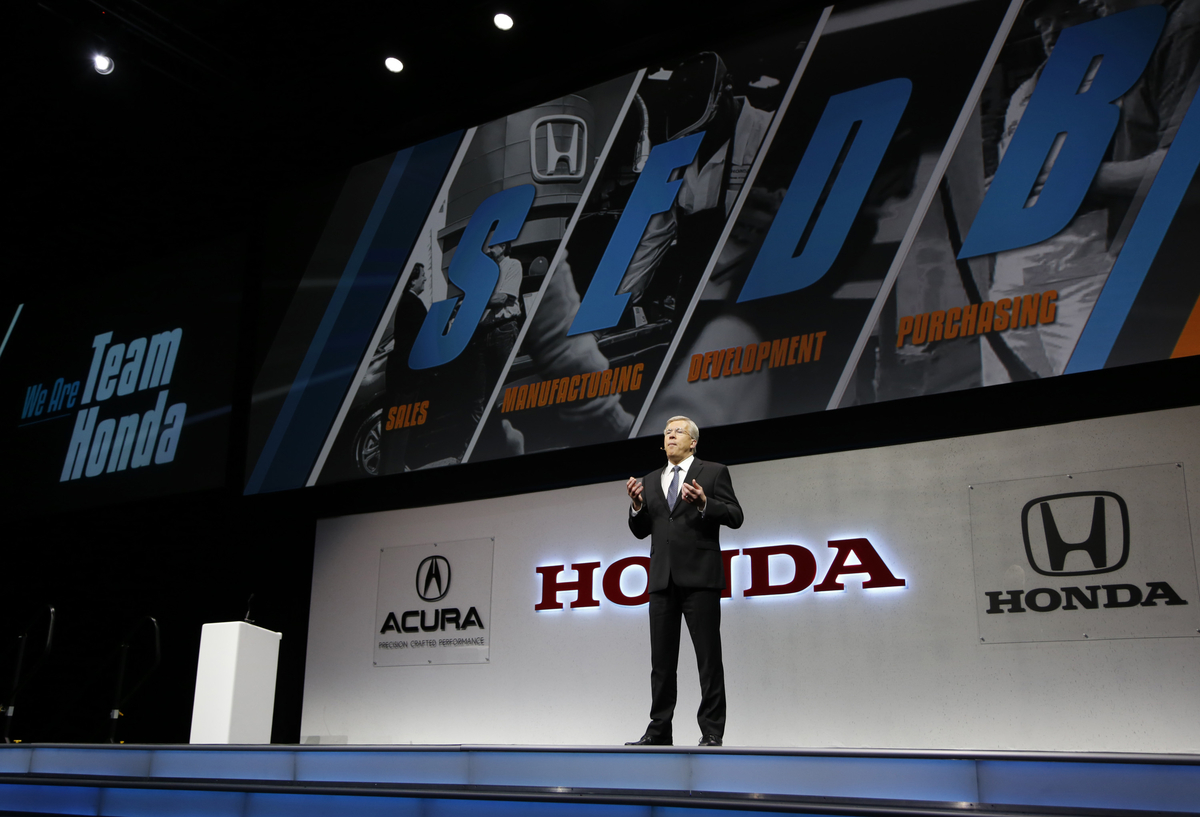 OEM and service parts suppliers earn awards at two-day event
May 3, 2016 - INDIANAPOLIS
Honda honored 93 North American auto suppliers for achievements in supplying parts and materials at the 32nd annual Honda Supplier Conference, attended by more than 600 original equipment suppliers April 29, in Indianapolis, Indiana, where the company emphasized the importance of strong supplier relations and working more closely as a team to accomplish new levels of success.
During the conference, Honda honored suppliers in two areas – those supplying parts and materials for mass production products and companies supplying service parts that serve the needs of customers after they have purchased Honda and Acura vehicles.
"As our responsibilities continue to increase in the North American region, there is a greater requirement for teamwork and collaboration than ever before," said Tom Lake, vice president for North American Purchasing at Honda North America, Inc. (HNA). "Let's continue to work together to create new dreams for our customers and, in so doing, create our future together."
Honda purchased a record $27.6 billion in parts and materials for mass production from North American suppliers in 2015, which supported record production of more than 1.86 million Honda and Acura passenger vehicles last year in North America. Honda has continued a strong cadence of new product introductions with the 2017 all-new Acura NSX supercar this spring and the return of the 2017 Honda Ridgeline.
Dan Smith, senior vice president of Engineering Planning and Cost at HNA, stressed the importance of continuing to focus on manufacturing flexibility and innovation to meet high customer demand for Honda and Acura products.
"We have the strongest product lineup in our history and we're working hard to leverage our production flexibility to meet customer demand now and in the coming months," Smith said. "This has included adjustments early next year with MDX being added to the East Liberty (Ohio) Plant and the startup of CR-V production here in Indiana."
2016 OEM Supplier Awards
Honda recognized 93 OEM parts suppliers for performance excellence in three categories – quality, on-time delivery and value. Among the award recipients this year, only one company, Panasonic Automotive and Industrial Systems Sales Company de Mexico SA de CV of Reynosa, Mexico, was a triple-award recipient gaining recognition in all three categories.
Honda also honored 19 suppliers for performance excellence across multiple award categories.
In addition, Honda R&D Americas, Inc. presented its first-ever Excellence in Innovation Award to KTH Parts Industries, Inc. and parent company H-One Co., LTD of St. Paris, Ohio, for their work on the 2017 Acura NSX, and Panasonic Automotive Systems Company of America in Knoxville, Tennessee, for its work on the new Truck Bed Audio system on the upcoming 2017 Honda Ridgeline truck. This award honors suppliers that achieve truly innovative results through breakthrough ideas.
The Corporate Citizenship Recognition, honoring a supplier that demonstrates an exceptional commitment to sustainability, went to Cascade Engineering, Inc. of Grand Rapids, Michigan.
Honda's 644 Original Equipment Manufacturers (OEMs) provide parts to 16 Honda manufacturing plants in North America that produce Honda and Acura automobiles and light trucks.
For a full list of award winners, visit the press release at Honda News.
2016 Honda Service Parts Suppliers Awards
American Honda Motor Co., Inc. also honored 56 suppliers on April 28 for outstanding performance in supplying service parts that serve the needs of customers after they have purchased Honda and Acura vehicles.
Honda Service Parts suppliers also were rated on their performance in quality, delivery and value. Distinct from the OEM supplier awards, the Service Parts awards are based on overall scores reflecting the combined performance in all three categories.
Working with 1,183 Service Parts Suppliers in North America, American Honda provides service and accessory parts for the nearly 20 million Honda and Acura automobiles in operation in the United States. Honda purchased more than $1 billion in parts from its Service Parts suppliers in North America last year.
American Honda manages a national network of warehousing and distribution facilities that deliver high-quality, high-value service parts to 1,300 Honda and Acura dealers nationwide, who consistently rank the company as managing the best parts operations in the automobile industry.
About Honda
Honda established operations in America in 1959 and now employs more than 40,000 associates in its North American sales, R&D and manufacturing operations with total capital investment in North America exceeding $22 billion. Based on its longstanding commitment to "build products close to the customer," Honda operates 19 major manufacturing facilities in North America producing a wide range of Honda and Acura automobiles, automobile engines and transmissions, Honda all-terrain vehicles, power equipment products, such as lawn mowers, mini-tillers and general purpose engines, and the Honda Jet advanced light jet.
# # #
Twitter
Error: Could not authenticate you.