News
March 6, 2019
Honda Leads in Fuel Efficiency in Latest U.S. EPA Trends Report
Mar 6, 2019 – Washington, D.C. Honda sets the bar for fleet average fuel efficiency at 29.4 mpg Fleet average CO2 emissions also lowest at...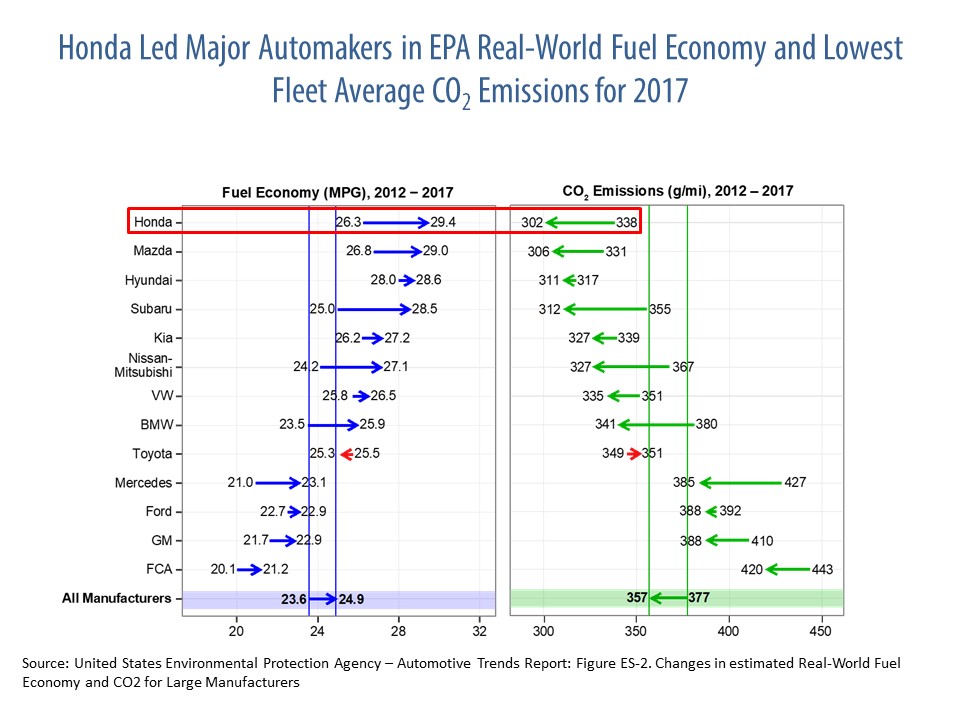 - Washington, D.C.
Honda sets the bar for fleet average fuel efficiency at 29.4 mpg
Fleet average CO2 emissions also lowest at 302 g/mi
Honda ranks as the most fuel-efficient automaker in America in a new report from the U.S. Environmental Protection Agency (EPA) released today. Honda has the highest fleet average fuel economy and lowest CO2 emissions of any major automaker for the 2017 model year (MY2017), the latest year for which full data is available, according to the report.
The 2019 EPA Automotive Trends Report ranked Honda first with a U.S. fleet average fuel economy of 29.4 miles per gallon (mpg), a five-year improvement of 3.1 mpg, and 4.5 mpg above the industry average for MY2017. Similarly, Honda's fleet- average CO2 emissions reached an industry low of 302 grams/mile, an improvement of 36 grams/mile from 2012 results and 55 grams/mile better than (below) the industry average for the 2017 model year.
"Honda is proud to play a leading role in the move toward a more efficient, low- emissions mobility future and it's encouraging to see the industry as a whole making significant gains, despite low fuel prices and the market trend toward trucks and SUVs," said Robert Bienenfeld, assistant vice president of Energy and Environmental Policy for America Honda Motor Co., Inc. "There's a lot of work still to be done, but with record sales and production of Honda electrified vehicles and more planned, we are committed to continue improving our fuel economy performance."
In 2018, Honda set new all-time records for sales and production of electrified vehicles in America1, spurred by the introduction of the 2019 Insight hybrid sedan at the Greensburg, Indiana plant, and the start of production of the redesigned 2019 Accord Hybrid in Marysville, Ohio. The company added production of its two-motor hybrid power unit in Russells Point, Ohio, and assembly of the hybrid battery packs for both the Insight and Accord Hybrid at its Marysville, Ohio plant.
The Honda Clarity series of vehicles, which launched in 2017 and now features battery electric, fuel cell and plug-In hybrid variants, has also contributed to the company's increased alternative fuel vehicle footprint and reduced CO2 emissions. The 50-state Clarity Plug-In Hybrid topped all other plug-in hybrid models in total U.S. sales in December, January and February.
Globally, Honda intends for two-thirds of its automobile sales to be electrified vehicles by 2030 and is making substantial investments for the production of electrified vehicles in America, including the current Insight and Accord Hybrid, along with the Acura MDX Sport Hybrid and Acura NSX hybrid supercar.
Honda's Commitment to the Environment
Based on its vision of "Blue Skies for our Children," Honda is working to advance technologies that address society's environmental and energy concerns. The company intends for electrified vehicles to comprise two-thirds of its global automobile sales by 2030. In North America, the Honda Electrification Initiative will see Honda's electrified powertrain technologies applied to an expanding portfolio of cars and light trucks in the years ahead. Honda's electrified vehicle lineup today includes the Clarity series of vehicles, featuring fuel cell, battery electric and plug-in hybrid powertrains, along with the new Accord Hybrid and Honda Insight.
Honda is working to reduce the environmental impact of its products throughout their life cycle, including reducing waste, emissions and further improving the energy efficiency of producing, distributing and selling Honda and Acura products in North America. This includes a 93 percent reduction in waste sent to landfills from Honda plants in North America.
Through its "green purchasing" and "green dealer" initiatives, the company also is working to promote more environmentally responsible business practices with its more than 650 original equipment suppliers and 1,300 retail dealer partners.
1 Using domestic and globally sourced parts.
Twitter
Error: Could not authenticate you.