News
January 16, 2019
Launch of All-New Honda Talon Side-by-Side Highlights Growth, Enhanced Capabilities at Honda of South Carolina Mfg.
Jan 16, 2019 – TIMMONSVILLE, S.C. Associates at Honda of South Carolina Mfg., Inc. (HSC) today celebrated the start of mass production of the all-new...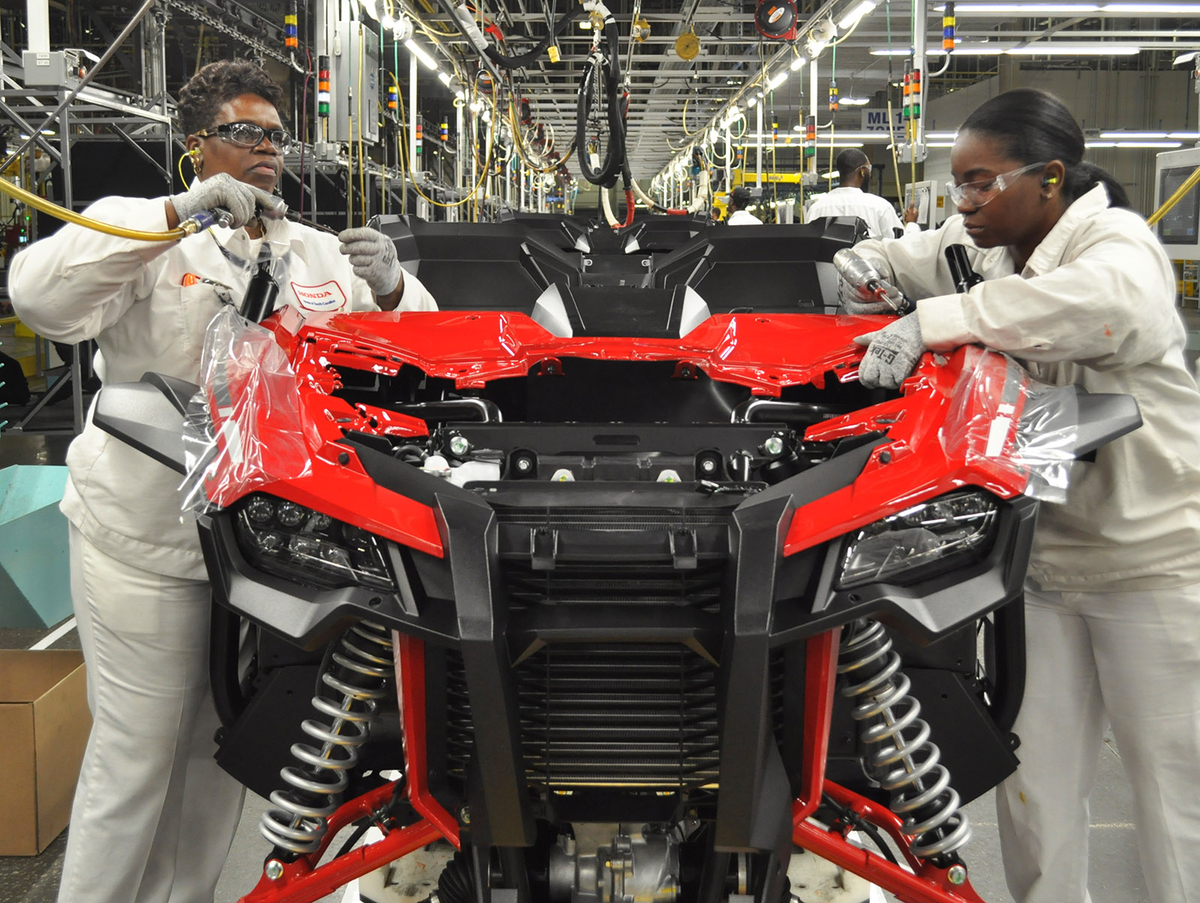 - TIMMONSVILLE, S.C.
Associates at Honda of South Carolina Mfg., Inc. (HSC) today celebrated the start of mass production of the all-new Talon sport side-by-side. HSC, which marked its 20th anniversary in 2018, makes all-terrain vehicles (ATV) and is the exclusive global production source for Honda side-by-side (SxS) vehicles.
The Honda Talon 1000X and 1000R, two new entries into the fast-growing sport side-by-side segment, highlight the skill and dedication of the engineers at Honda R&D Americas, Inc. in Raymond, Ohio, who developed the Honda Talon and the experienced workforce who build it at Honda of South Carolina Mfg..
In an effort to meet growing demand for side-by-side vehicles, HSC completed a $45 million expansion project in 2018 that added 250 new jobs and 115,000 square feet of space. The project included a new weld area, a new paint line to enhance quality and color variations, along with new buildings and expansions to improve production efficiency. The plant also added automated guided carriers and lift assist devices to support quality, logistics, safety and ergonomic improvements for associates.
"Over the last 20 years, Honda in South Carolina has evolved from a small ATV manufacturing plant, to a world-class team that can produce a complex model like the Honda Talon sport side-by-side," said Gary Mabrey, president of HSC. "This expansion and innovation was made possible through the efforts of the incredible team of associates who are dedicated to meeting the needs of our customers."
Drawing upon countless hours of collaborative development with Honda R&D Americas, Talon brings a new level of off-road excitement, precision, performance and quality - pushing the envelope of what is possible in a sport side-by-side.
"The Talon is truly a standout side-by-side vehicle and I'm proud that associates at Honda of South Carolina are part of its development as well as its future," said Chuck Boderman, vice president of powersports division of American Honda. "The sport side-by-side market is showing significant growth and it's exciting to have the new Honda Talon for our dealers and our customers."
Aware that a single offering would be a compromise for some conditions and driving styles, Honda developed two versions of the Talon. Each works across a broad array of conditions but specializes in a different area of the off-road spectrum. The two vehicles share a common frame and engine but have wheelbase and suspension configurations that are designed to shine in different applications. Both models function at a high level in a wide variety of terrain types, bringing a new level of control, style and refinement to a sport side-by-side market that is hungry for innovation, reliability and an improved driving experience.
About Honda of South Carolina Mfg.

HSC began production of all-terrain vehicles (ATVs) in July 1998, with a workforce of approximately 200 associates. The initial $30 million, 200,000-square-foot ATV manufacturing plant was the beginning of Honda of South Carolina's significant growth in Florence County.
Today, HSC employs almost 1,000 associates in its 947,000-square-foot facility that now represents $400 million in investment. With the flexibility to produce many different types of powersports products, using domestic and globally sourced parts, associates at the Timmonsville plant currently have the annual capacity to manufacture 100,000 Honda ATVs and 100,000 side-by-sides for North American and global markets.
About America Honda

American Honda Motor Co., Inc., will mark its 60th anniversary in America in 2019. Honda established its first operation in America in Los Angeles, Calif., in 1959, for the sale of motorcycles and today employs more than 40,000 associates in the development, manufacturing, and sales operations.  American Honda is the sole distributor of Honda motorcycles, scooters, ATVs and side-by-sides in the U.S.  The Honda Motorcycle Division conducts the sales, marketing and operational activities for these products through independent authorized Honda retail dealers. For more information on Honda products, go to 
powersports.honda.com
.
Honda R&D Americas, Inc
.
Operating 12 facilities in the United States, Honda R&D Americas, Inc. (HRA) was incorporated in 1984 after beginning operations in California in 1975. HRA is responsible for creating advanced products and technologies that provide new value to Honda and Acura customers. HRA conducts all phases of product development in the U.S., from market and technology research and styling through engineering design to prototype fabrication and testing, local parts procurement and support for mass production preparation.
With major facilities in Ohio, California, and North Carolina, HRA is engaged in the development and testing of Honda and Acura automobiles, Honda powersports and power equipment products, and is also playing a lead role in the development of leading-edge safety, driver assistive and environmental technologies. Learn more at 
http://www.hondaresearch.com
Twitter
Error: Could not authenticate you.