News
December 8, 2016
New STEAM-Focused Mobility Exhibition Opening at COSI
Dec 8, 2016 – Columbus, OH COSI is excited to announce its next exhibition, Meet the Innovators, opening December 11. The exhibition is the...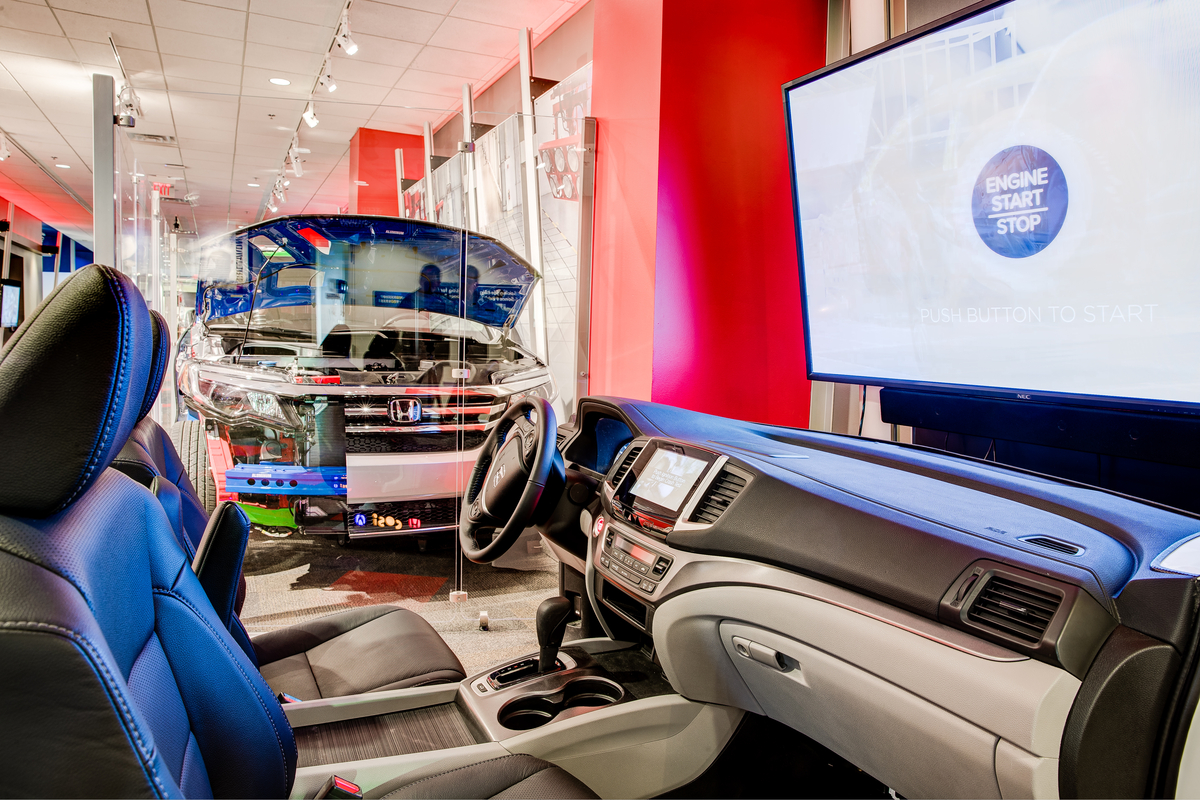 Dec 8, 2016 - Columbus, OH
COSI is excited to announce its next exhibition, Meet the Innovators, opening December 11. The exhibition is the result of a joint effort between COSI and associates from Honda who came together to provide the vision and creativity for the new engineering-focused mobility exhibit. The concept for the exhibit was developed as part of an exploratory partnership between COSI, Honda and PAST Foundation in an effort to help build career awareness and prepare students for science, technology, engineering, art, and math (STEAM) jobs in tomorrow's Central Ohio workforce.
Meet the Innovators uses hands-on activities and video interviews to showcase the exciting research and development work taking place at Honda's Central Ohio operations. The exhibit provides a backdrop for visitors to explore exciting careers in STEAM.
"This exhibition demonstrates the power of collaboration," said David E. Chesebrough, Ed.D, President and CEO of COSI. "Teams from COSI, Honda and PAST Foundation worked together to create a fun, engaging, educational experience for our guests featuring elements designed to inspire young people to go into STEAM careers."
The effort put into this exhibit is another example of Honda's commitment to encourage and energize the future workforce of tomorrow.
"Honda wants to educate the next generation workforce through strategic partnerships with organizations like COSI, and STEAM-focused initiatives like this new "Meet the Innovators" exhibit," said Frank Paluch, president of Honda R&D Americas, Inc. "Our Honda associates invested a great deal of time, effort and passion to create this exhibit and are excited to share their experiences with students interested in STEAM-related careers. We also hope this exhibit will inspire other companies to participate in this important initiative by creating their own STEAM-related exhibits."
The exhibition explores how STEAM-based skills can help prepare students to create the as-yet unimagined transportation technologies. Guests will be given the opportunity to:
Climb onto a real All-Terrain Vehicle (ATV) for a simulated trail ride;
Jump on a spring and a shock to discover how suspensions help smooth a vehicle's ride;
Look inside a cut-away car and crash dummy to explore how technology helps protect passengers in a crash;
Experience a virtual crash test from the driver's seat of a car;
Compare the air resistance of different vehicles using an interactive wind tunnel;
Learn how a combustion engine converts fuel into motion by examining its complex inner workings; and
Dive into the vehicle design process by drawing their own stylish vehicle.
About COSI
COSI, the Center of Science and Industry located in Columbus, Ohio, is one of the most respected science centers in the nation — engaging more than 34 million people through both on-site and off-site programs since 1964. Parents Magazine named COSI the #1 Science Center in the Country. COSI's programs and world-class experiences inspire an interest in science encouraging people to want to learn more about their world. Read more at cosi.org.
About Honda in America
Honda began its North America operations in Los Angeles, California, in 1959. Today, Honda companies in North America represent a cumulative investment of more than $22 billion and employ more than 40,000 associates in the design, development, manufacture, marketing, financing and servicing of Honda and Acura automobiles, Honda powersports products and Honda power equipment products.
Honda has been producing products in America for more than 37 years and currently operates 19 major manufacturing facilities in North America. Honda also operates 14 research and development centers in the U.S. with the capacity to fully design, develop and engineer many of the products Honda produces in North America. In 2015, more than 99 percent of all Honda and Acura automobiles sold in the U.S. were made in North America, using domestic and globally sourced parts.
About PAST Foundation
PAST Foundation helps schools and districts develop transformative learning strategies through an intensive hands-on approach that incorporates Anthropology and STEM to promote transdisciplinary problem-based learning. PAST faculty are anthropologists, researchers and educators that believe understanding complex societies – like schools and communities – drive improvements in education. PAST recently launched PAST Innovation Lab, learning labs that allow the organization to impact classrooms and expand learning opportunities for teachers and students everywhere.
# # #
Twitter
Error: Could not authenticate you.