News
August 24, 2017
Rapid Growth and Strong CO2 Emissions Reductions Inspire Next Phase of  Honda's Green Dealer Program
$7.5 million in energy costs saved since program's launch Hundreds of dealers adopt program, including AutoNation group Three dealers recognized with "electric grid neutral"...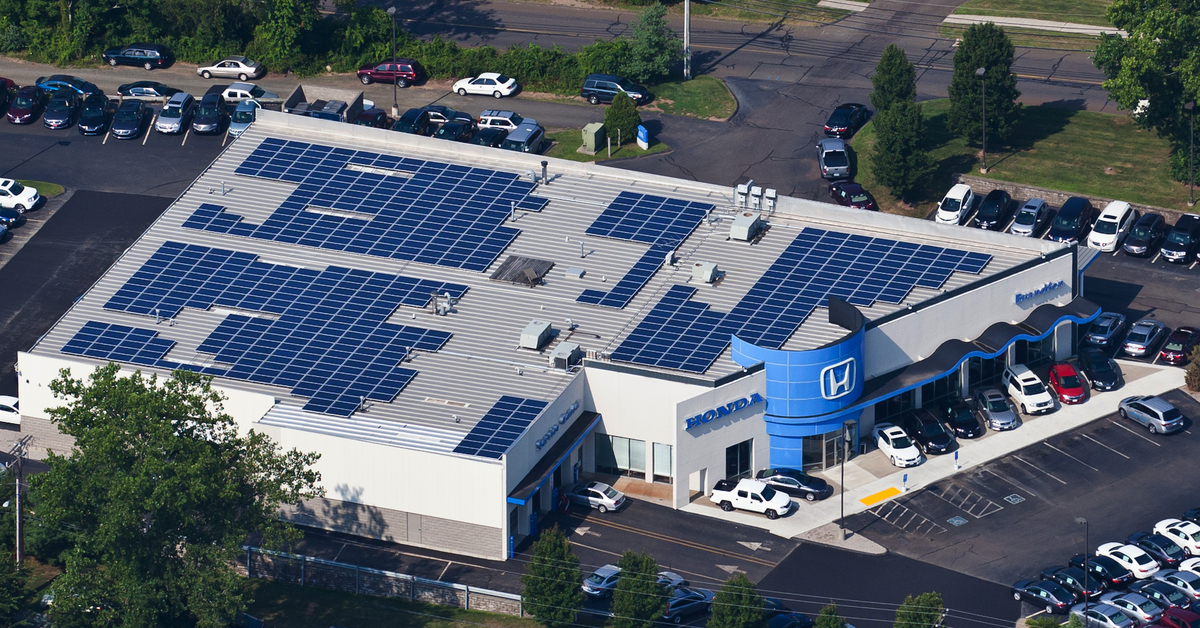 $7.5 million in energy costs saved since program's launch
Hundreds of dealers adopt program, including AutoNation group
Three dealers recognized with "electric grid neutral" distinction
Updated Green Dealer Guide (greendealer.honda.com) to help business owners continue to lower energy costs
TORRANCE, Calif., August 24, 2017 – Building on its commitment to minimize the environmental impact of its products in every phase of their life cycle, Honda is launching the next phase of its Environmental Leadership Program, or Green Dealer Program, to provide independently-owned U.S. Honda and Acura dealers with new tools to evaluate and measurably reduce energy and water use, saving money while enhancing their environmentally-responsible business operations.
The program, launched in 2012, offers a refreshed website with cumulative CO2 reduction data, an updated Green Dealer Guide, and new benchmark metrics for evaluation, in addition to existing support for data collection, environmental assessment, expert advice, implementation, and results verification.
"On an annual basis, the Honda Green Dealer Program is helping to reduce dealership CO2 emissions by approximately 19,000 metric tons. That's equivalent to 2,800 homes worth of electricity use each year," said Steve Center, vice president, Connected and Environmental Business Development for American Honda Motor Co., Inc. "As our dealers have demonstrated, reducing energy and water use are achievable goals that can save money, address climate change, and inspire others to make a difference for the future of our planet."
The program awards participating dealers at three levels of achievement based on an independent evaluation of dealership performance in the areas of energy and water efficiency, waste reduction, site attributes, and other sustainable best practices. More than 150 Honda dealers across all product lines, including automobile, powersports and power equipment, have received the Honda Environmental Leadership Award, earning Silver, Gold or top-level Platinum designations. These dealers have collectively reduced CO2 emissions by more than 34,000 metric tons.
Three Platinum award recipients, Brandfon Honda in Branford, Conn., Eastern Equipment in Derry, N.H. and Rossi Honda in Vineland, N.J., have also earned the distinction of being electric grid neutral. These dealers produce as much or more energy from renewable energy sources than they consume from their local electric utilities over a one-year measurement period. A video about Rossi Honda's electric grid neutral dealership can be viewed at https://youtu.be/5NyUf_Kn6Pg.
Free "Open Source" Green Dealer Guide Download Available
A major component of the program, and a key to its success, is the Green Dealer Guide. This unique resource provides step-by-step guidance to implement systems and technologies that help dealers achieve their carbon and water reduction goals. The new version of the guide features updates in the areas of energy, water, and site, including:
Track waste and recycling in ENERGY STAR Portfolio Manager
Innovative approaches to reduce environmental impact
Greenhouse gas emission and energy reduction calculation methodologies
Higher energy efficiency standards for lighting and heating and cooling systems
Emphasis on water use reductions through efficient water fixtures, use of recycled water, and other conservation measures
Construction waste diversion for new builds
In preparation for the next stage of the Green Dealer program, Honda collaborated with AutoNation, which has hundreds of dealerships across multiple brands nationwide.
"We worked directly with Honda to pilot the new phase of the Honda Environmental Leadership Program, and it has been a valuable and rewarding experience for AutoNation," said Mike Jackson, chairman and CEO, AutoNation. "The program helped us successfully improve the environmental performance of our dealerships nationwide, lowering energy use and operating costs, and adding new recycling programs to reduce waste sent to landfills."
While the Green Dealer Guide was developed with Honda and Acura dealers in mind, it can be used by any business owner interested in lowering energy costs and reducing environmental impact. It is available as a free, open-source download at greendealer.honda.com. Going forward, Honda plans to update the guide periodically as new green building technologies and guidelines develop, and as the Green Dealer program evolves and grows. To learn more about the program, please visit greendealer.honda.com.
Honda Commitment to the Environment
Based on its vision of "Blue Skies for our Children," Honda is working to advance technologies that address society's environmental and energy concerns. Honda is targeting a 50 percent reduction in its total company CO2 emissions on a global basis by 2050, compared to 2000 levels. The company also strives for significant growth in electrified vehicle sales, beginning with the hydrogen-powered Clarity Fuel Cell vehicle launched in 2016, followed by a new Clarity Electric and Clarity Plug-In Hybrid in 2017.
Honda also is endeavoring to reduce the environmental impact of its products throughout their life cycles, including the reduction of energy use and emissions from its production, distribution and sales. This includes the Honda Environmental Leadership Award Program.

Twitter
Error: Could not authenticate you.