News
August 2, 2016
Team Honda Week of Service Lends a Helping Hand Across North America
Aug 2, 2016 – MARYSVILLE, Ohio Some 16,000 volunteers participated in the inaugural Honda Week of Service last month, performing a variety of community...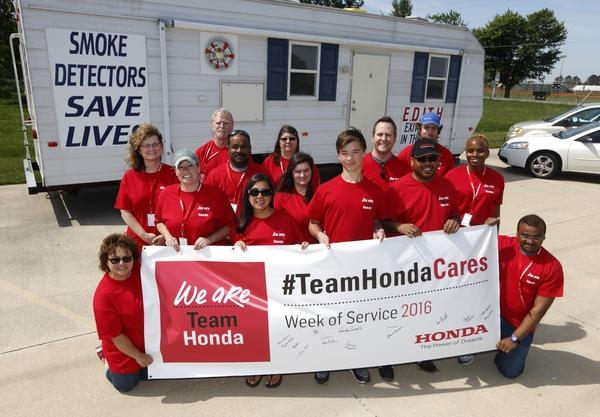 - MARYSVILLE, Ohio
Some 16,000 volunteers participated in the inaugural Honda Week of Service last month, performing a variety of community services that highlighted the important work of local community organizations throughout North America.
One community organization benefiting from the volunteers' efforts was Agape Distribution, a non-profit agency in Sidney, Ohio that maintains a food bank where people in need can shop for groceries for free. Honda volunteers painted the exterior of Agape's store, which did more than simply freshen up the building's facade.
"When people come down here, they're really beat down by life. They come in and get 95 pounds of free groceries, and it brings hope to them," said John Geissler, CEO of Agape Distribution. "I dreamed about getting this building painted, so our customers don't look like they're going to a food pantry, they look like they're going to a grocery store. It's everything to me."
Agape was one of hundreds of organizations supported during Honda's Week of Service held June 10-19. During the inaugural event, Honda associates in North America, joined by an army of volunteers from the company's dealers and suppliers throughout the region, participated in 425 coordinated group volunteer activities in 41 states, as well as Canada and Mexico.
"It felt great to pitch in, roll up my sleeves and help Bread of Life do its job of feeding people in need," said Yolanda White, a Honda associate from Honda Manufacturing of Indiana. "It was a rewarding experience."
Team Honda provided assistance through a wide range of activities, from food drives and blood drives to adopt-a-pet events and home repair.
The community impact from the Team Honda Week of Service included the following:
60,000 canned goods & meals provided
3,000 families fed
600 pints of blood donated
350 bags of trash collected
2,500 children provided school supplies
200 animals helped/adopted
75 homes painted/refurbished
Approximately $75,000 in individual charitable donations
"We are so thankful to our associates and business partners who took time out to help improve the lives of people in the communities where we live and work," said Executive Vice President Rick Schostek, Honda North America, Inc. "This week was an example of what can happen when a team of people come together to help their neighbors."
For highlights of the event, watch the Team Honda Week of Service video on YouTube here.
The Week of Service was timed to coincide with the Honda's Founder's Day in North America, which marks the establishment of the first Honda business operation in the region, in California, on June 11, 1959.
For additional updates and reactions to the Team Honda activities, follow us on Twitter using hashtag #TeamHondaCaresor check out the Team Honda Week of Service page on our CSR website at http://csr.honda.com/longform-content/team-honda-week-of-service/ or https://www.facebook.com/HondaWeekofService/
Honda in America
Honda began business in North America in Los Angeles, California, in 1959. Today, Honda companies in North America represent a cumulative investment of more than $22 billion and employ more than 40,000 associates in the design, development, manufacture, marketing, financing and servicing of Honda and Acura automobiles, Honda powersports products and Honda power equipment products.
Honda has been producing products in America for more than 33 years and currently operates 19 major manufacturing facilities in North America. Honda also operates 14 major research and development centers in the U.S. with the capacity to fully design, develop and engineer many of the products Honda produces in North America. In 2015, more than 99 percent of all Honda and Acura automobiles sold in the U.S. were made in North America, using domestic and globally sourced parts.

# # #
Twitter
Error: Could not authenticate you.