News
March 31, 2016
Top Students from 48 HBCUs Compete in Academic Tournament at 27th Annual Honda Campus All-Star Challenge National Championship
Watch live Monday, April 4 at 12 p.m. Eastern at HCASC.com Student teams earn grants and make lasting memories in quiz-bowl competition Mar 31,...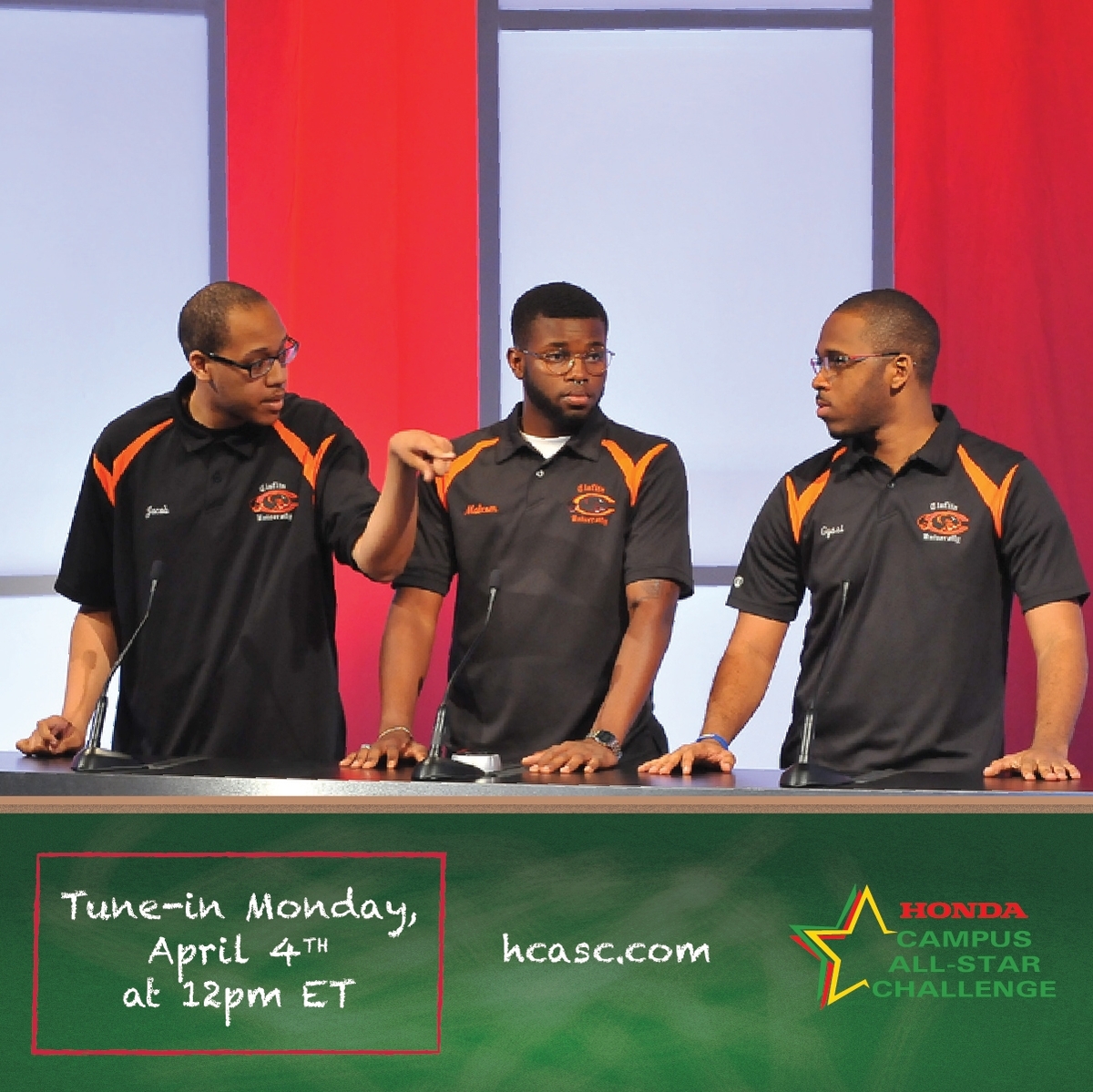 Watch live Monday, April 4 at 12 p.m. Eastern at HCASC.com
Student teams earn grants and make lasting memories in quiz-bowl competition
Mar 31, 2016 - TORRANCE, CA
Some of the best and brightest students representing 48 Historically Black Colleges and Universities (HBCU) will test their knowledge to win bragging rights and earn grants for their schools in a year-long academic competition culminating this weekend at the 27th annual Honda Campus All-Star Challenge (HCASC) National Championship Tournament (NCT). Nearly 200 students will participate in this unique academic tournament, to be held April 2-6 in Torrance, California. The 2016 NCT will be live-streamed Monday, April 4 starting at 12 p.m. Eastern exclusively at HCASC.com.
Since 1989, more than 100,000 students from around the country have competed in the tournament and more than $7.5 million has been awarded to the schools for books, tuition, scholarships, facility upgrades and other investments.
"Honda is proud to support HBCUs because of the unique and critical role they play in higher education, helping millions of students achieve their dreams," said Steve Morikawa, Vice President of Corporate Relations and Social Responsibility at American Honda.
Preparing for the HCASC tournament is a year-long process, beginning when students arrive at school in the fall. "Power Search" quizzes identify the academic "superstars" at each school, followed by campus tournaments and the formation of each school's HCASC team. Practice sessions commence under the tutelage of a faculty coach, with an emphasis on knowledge acquisition and team building, and, in December, the coach selects the varsity team. Finally, in January, teams attend National Qualifying Tournaments after which, the "Great 48" teams are selected. See the full list of participating HBCUs here.
The HCASC experience leaves a lasting impression on the participants. HCASC alumni span the U.S. and world abroad, with varied career paths – doctors, teachers, lawyers, engineers, scientists, architects, writers, military and government officials, business leaders, artists, and more. They share an enthusiasm for learning and always remember their HCASC experience and the lasting friendships made during the tournament. To view alumni profiles, visit the HCASC Alumni Hall of Fame.
More than 100 volunteers, including nearly 40 Honda associates, help produce the National Championship Tournament, serving as game officials, conducting registration and hosting the students.
Connect with HCASC via social media for updates on Facebook (www.facebook.com/HCASC) and Twitter (www.twitter.com/HCASC) using #HCASC.
About Honda's Commitment to Historically Black Colleges and Universities
Honda has supported and celebrated America's HBCUs for more than 25 years. Since 1989, Honda Campus All-Star Challenge (HCASC), one of Honda's largest and longest running philanthropic initiatives in the United States, has impacted the lives of over 100,000 academic superstars from across the country. Since 2003, Honda Battle of the Bands (HBOB) has provided eight top HBCU marching bands with a once-in-a-lifetime opportunity to deliver a dynamic performance on a national stage, while earning grants and positive attention for their respective institutions. Through programs like HCASC and HBOB, Honda is not only helping students academically, but building them up for the future, helping position them for career success. Honda has also awarded more than $10 million to support music and educational programs at America's HBCUs.
About Honda
Honda seeks to be a company that society wants to exist, creating products and technologies that improve the lives of people while minimizing the environmental impacts of its products and business operations to ensure a sustainable future for society. Honda is also committed to making positive contributions to the communities where we do business, to socially responsible business practices and to the promotion of diversity in our workforce. From our involvement in STEM education and Historically Black Colleges and Universities (HBCUs) to our support of pediatric brain tumor research, and support of volunteer efforts by Honda associates, including environmental clean-up activities, Honda believes in giving back to the communities where we live and work. Find out more at csr.honda.com.
# # #
Twitter
Error: You currently have access to a subset of Twitter API v2 endpoints and limited v1.1 endpoints (e.g. media post, oauth) only. If you need access to this endpoint, you may need a different access level. You can learn more here: https://developer.twitter.com/en/portal/product