News
May 12, 2021
Transmission Plants Celebrate Milestones, Step Toward Electrified Future
Honda is celebrating U.S. automobile transmission production at two North American facilities, beginning with today's 15-year anniversary of production at the company's transmission plant...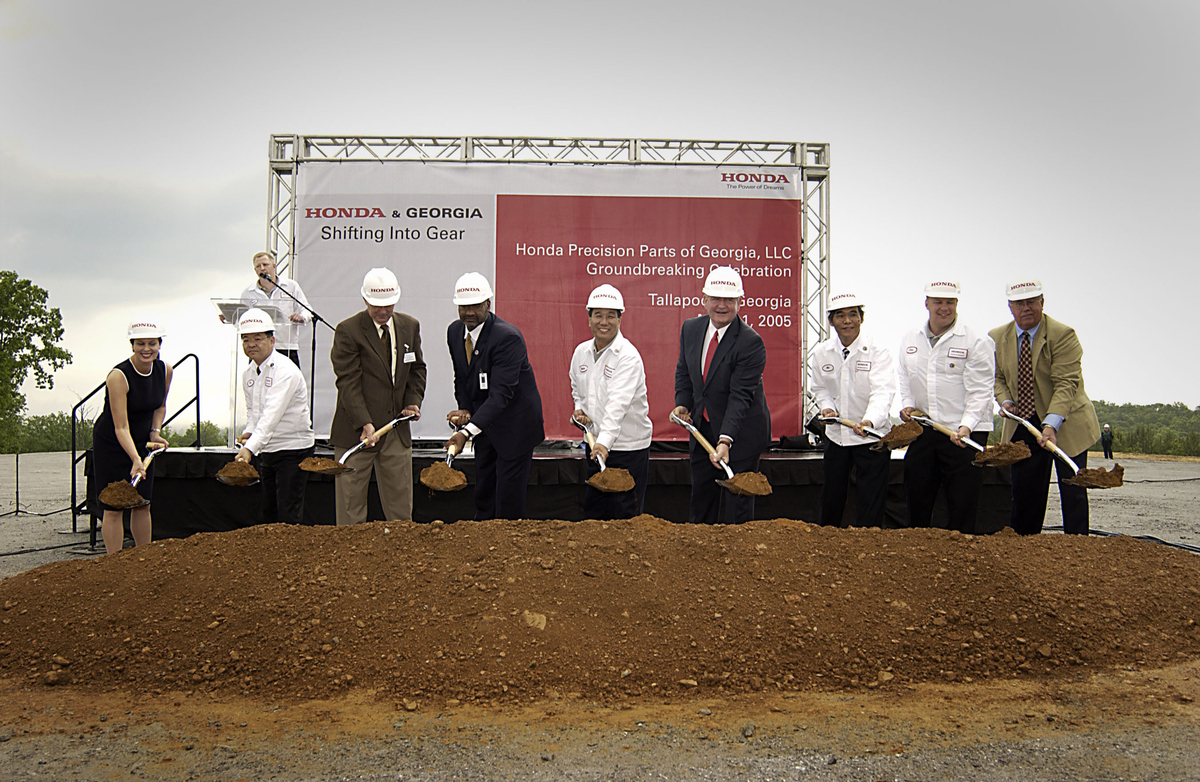 Honda is celebrating U.S. automobile transmission production at two North American facilities, beginning with today's 15-year anniversary of production at the company's transmission plant in Tallapoosa, Georgia.  In July, Honda's first dedicated U.S. transmission plant, located in Russells Point, Ohio, will mark its 25th anniversary.  Honda has manufactured more than 21 million transmissions in America since starting production of automatic transmissions in Ohio in 1989.
Both plants play a critical role in Honda's future, not only building advanced transmissions and components that help power Honda and Acura products made in America but taking on new responsibilities as Honda takes its first steps in electrifying its vehicle lineup. This includes production of Honda's innovative two-motor hybrid system used in the Accord Hybrid, CR-V Hybrid, and Insight.
"Our Honda plants in Georgia and Ohio represent a transmission powerhouse in America, creating advanced technology components that help power Honda and Acura products for our customers," said Gerald Bruch, vice president, Honda Development and Manufacturing of America, LLC. "We look forward to continued innovation that serves our customers and the communities where our associates live and work."
Honda began transmission production in the U.S. at Honda's Anna Engine Plant in Ohio, in 1989.  In 1996 the transmission manufacturing lines were relocated from the Anna Engine plant to a wholly owned Honda supplier (Bellemar Parts Industries) in Russells Point, Ohio.  In 1997, Bellemar was incorporated as Honda Transmission of America.
Ohio Transmission Plant Turns 25
Since starting transmission production in 1996, the Ohio Transmission Plant has steadily expanded the scope of its operations and products to keep pace with Honda's growing lineup of passenger cars and light trucks. With a total investment of more than $1 billion, the 1.1-million square-foot Ohio transmission plant produces more than 850,000 transmissions per year as well as gear sets and transfer cases and differentials for four-wheel drive vehicles.
The Ohio Transmission Plant's transmission product line-up started with production of 4-speed automatic transmissions (4AT) in 1996, followed by 5-speed automatic transmissions (5AT) in 2005 and 6-speed automatic transmissions in 2010. Today's transmission types include a continuous variable (CVT) pulley driven transmission and a two-motor hybrid system (HEV) transmission for the Accord Hybrid, CR-V Hybrid and Insight Hybrid sedan. The plant also makes a P2 Planetary Gear Assembly that is used in every gear setting in the 10AT produced in Georgia.
Although "Transmission Plant" is in the company name, the product line is not limited to only transmissions and transmission components. In 2005, the plant began producing 4WD rear differentials and transfer assemblies as well as gear components. The product line has evolved to several globally exclusive specifications making the Ohio location one of Honda's leaders in total drivetrain manufacturing.
In 2014, the Ohio facility also became the first major automotive manufacturing plant in the United States to derive a substantial amount of its electricity directly from wind turbines located on its property.  The plant was recently recognized with the U.S. Environmental Protection Agency (EPA) ENERGY STAR Certificate for Outstanding Energy Efficiency and became the first U.S. automotive transmission plant to earn this recognition.
Georgia Transmission Plant Turns 15
Honda started transmission production in Georgia in 2006 with 179 associates. With a total investment of more than $465 million, the operation has expanded to include more than 500 associates building 375,000 transmissions annually for the Honda Odyssey and Accord and Acura MDX, RDX and TLX.
The Georgia Transmission Plant began production with 5-speed automatic transmissions and added 6-speed automatic transmissions in 2012.  In 2017, the plant added a second assembly line, taking on a new responsibility as the first Honda plant in the world to produce Honda's advanced 10-speed automatic transmission (10AT).  Earlier this year, the plant began replacing its original production line to increase production of the 10AT.
Both Honda transmission plant locations were combined this spring under one new company, named Honda Development & Manufacturing of America, LLC (HDMA), which includes all Honda automobile manufacturing facilities in the U.S. related to frame, engine, transmission, and related engineering and purchasing operations.
About Honda Manufacturing in America
Honda's U.S. manufacturing operations were established in 1979 with the start of motorcycle production in Marysville, Ohio, followed in November 1982, by the start of automobile production at the Marysville Auto Plant.
Today, Honda employs more than 15,000 associates in Ohio across five plants with total capital investment of $13.6 billion and the capacity to produce 680,000 Honda and Acura automobiles, 1.18 million automobile engines and 1 million automobile transmissions, two-motor hybrid systems, and Sport Hybrid All-wheel Drive™ systems annually, using domestic and globally sourced parts.
Honda's five major Ohio manufacturing facilities include three auto plants, the Marysville Auto Plant, East Liberty Auto Plant and Performance Manufacturing Center, as well as the Anna Engine Plant and Russells Point transmission plant. The company has invested over $1 billion in these facilities over the past six years, continually modernizing equipment and adopting new technologies to advance quality and efficiency for Honda and Acura customers here and around the world. Learn more at https://ohio.honda.com/.
Twitter
Error: You currently have access to a subset of Twitter API v2 endpoints and limited v1.1 endpoints (e.g. media post, oauth) only. If you need access to this endpoint, you may need a different access level. You can learn more here: https://developer.twitter.com/en/portal/product