Views
February 25, 2022
To Inspire Young Women in STEAM, We Must Step into the Spotlight
By Yolanda Pate, PMP, Associate Chief Engineer, Honda Development and Manufacturing of America, LLC This past New Year's Day, I did something out of...
By Yolanda Pate, PMP, Associate Chief Engineer, Honda Development and Manufacturing of America, LLC
This past New Year's Day, I did something out of my comfort zone. I climbed aboard the Honda float leading the 133rd Tournament of Roses Parade, waving to crowds along the parade route while cameras beamed my face into millions of homes across the country and around the world. As a little girl growing up in Ohio who was passionate about math, I never imagined that such a moment could occur. But participating in the Rose Parade to celebrate women in STEAM fields (Science, Technology, Engineering, Arts, and Math) and inspire young girls to follow their dreams was one of the most important decisions I have made as a Black woman engineer.
I believe women in engineering, particularly women of color, need to be seen, heard, and celebrated to show today's little girls such a career is possible for them. That is why I didn't hesitate to stand on that global stage alongside three fellow Honda engineers and STEAM leaders – all of whom also are women of color. We need to redefine what an engineer is – and looks like – if we're going to inspire young women to pursue engineering studies and careers.
Research conducted by the Society of Women Engineers revealed that women represent nearly half of the total U.S. workforce, yet we are only 27% of STEM workers, and 14% of engineers (the study didn't include arts, thus "STEM"). The statistics are even more concerning when you consider that, according to the National Science Board, women of color comprise only 5% of the science and engineering workforce.
While these numbers are disappointing, they are improving. According to another report representation of women in undergraduate engineering programs increased 5% between 2010 and 2020 (American Society for Engineering Education: "Engineering by the Numbers"). That's good news. But we need to accelerate that progress in order to advance engineering in America.
I believe representation plays a critical role in that pursuit. As women engineers, we need to step into the spotlight to show young girls, especially girls of color, that someone who looks like them can be an engineer. From my own lived experience, I know that such a seemingly simple moment can be nothing short of life-changing.
Born with a natural penchant for numbers, I grew up thinking I would be a math teacher. I didn't envision myself as an engineer because I had preconceived notions of what an engineer was: a white guy with safety glasses and a lab coat. That changed after my senior year of high school.
As part of an internship in automobile manufacturing, I was assigned to the windshield wiper lab, joining a team that actually included multiple female engineers. It was the first time I had ever seen a woman in such a role! This opened my eyes, debunking my own preconceived notion, and prompted a new path for me. I abruptly changed my major and obtained a mechanical engineering degree.
Still, until I saw a woman engineer, I didn't know what was possible for me. And that gets to the heart of the matter: we must redefine what is possible for young girls.
This year's Engineers Week, or EWeek, is centered around the theme "Reimagining the Possible," and represents an opportunity to change the collective mindset of who can be an engineer. Here are a few simple ways women engineers can help shift perceptions and inspire the next generation:
Become a role model or mentor

As a board member for the Southern Automotive Women's Forum, I've been involved with a program called All Girls Auto Know, which exposes middle school girls to STEM careers in the automotive industry. Like me, I've seen many girls who never consider engineering as a career because they haven't seen it. We can change that by being a role model or mentor, or simply visiting a classroom and talking with young students about engineering. Discover Engineering offers tips on how to be a role model and inspire girls from all communities and backgrounds.

Post with pride

Use platforms like social media to raise the visibility of your work and accomplishments and celebrate those of other women engineers.

Say "yes" to the spotlight

Whether it's an invitation to participate in a panel discussion, be featured in a company communication, or, yes, ride on a parade float, don't shy away from the spotlight. That's where the opportunity for transformation shines brightest.
Knowing that little girls all over the world saw a Black woman engineer representing a Fortune Global 500 company brings a smile to my face. The float theme, "Believe and Achieve!" seemed so appropriate because for me and the many young girls now in a similar life stage, seeing is believing.
So, I have a request for all of my fellow women engineers. Not just because this is EWeek, but in every week of the year: step into the spotlight. Be seen. Be celebrated. Together, let's redefine what an engineer looks like.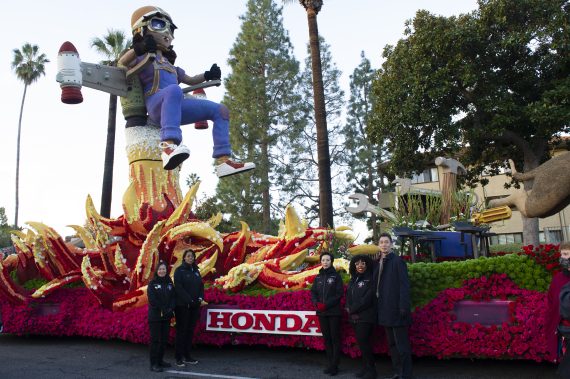 Twitter
Error: You currently have access to a subset of Twitter API v2 endpoints and limited v1.1 endpoints (e.g. media post, oauth) only. If you need access to this endpoint, you may need a different access level. You can learn more here: https://developer.twitter.com/en/portal/product