With 14 R&D facilities in the U.S., Honda has more than any international automaker.
Data Points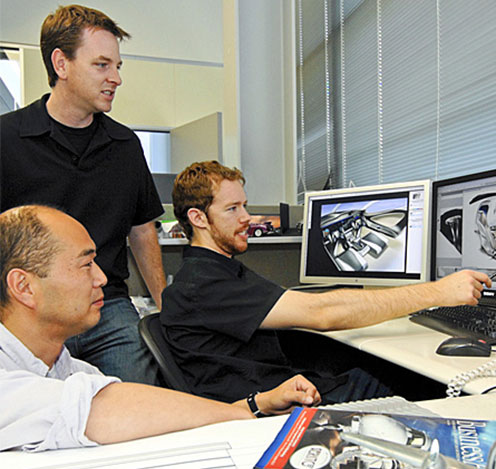 Dedicated Design Centers

Honda and Acura operate separate and independently dedicated design centers in California for research and development.

Complete Product Creation

The Honda Pilot, Honda Civic and Acura NSX are the latest examples of "complete product creation" - Honda's ability to develop vehicles in the U.S., from initial product concept all the way through mass production.

HondaJet Fuel Efficiency

HondaJet is equipped with the fuel-efficient GE Honda HF120 turbofan jet engine and the Honda-patented over-the-wing engine configuration. HondaJet fuel efficiency is increased by a natural-laminar flow wing and fuselage nose design and an advanced all-composite fuselage structure.
Power Equipment Center

Honda performs power equipment R&D in the U.S. at its research center in Haw River, N.C.

Racing Performance

Honda Performance Development, Inc., established in 1993 and located in Santa Clarita, C.A., is the technical operations center for Honda's high-performance racing program. The facility houses comprehensive engine design, engineering development, preparation, rebuilding and inspection areas, transit-style dynamometer test cells, machine shop, parts center, and administrative support facilities. It is also the sole engine supplier to the IndyCar Series.

U.S. Patents

Last year alone, Honda associates in the U.S. were issued 343 global patents.
Honda's R&D Operations Across the U.S.
Torrance, CA

Los Angeles, CA

Mountain View, CA

Denver, CO

Grant-Valkaria, FL

Detroit, MI

Burlington, NC

Haw River, NC

Cincinnati, OH

Columbus, OH

Raymond, OH

Columbus, OH

Greensboro, NC

Timmonsville, SC

Torrance, CA

Los Angeles, CA

Mountain View, CA

Denver, CO

Grant-Valkaria, FL

Detroit, MI

Burlington, NC

Haw River, NC

Cincinnati, OH

Columbus, OH

Raymond, OH

Columbus, OH

Greensboro, NC

Timmonsville, SC
Improving Fuel Economy by Reducing Aerodynamic Drag
Honda R&D's Wind Tunnel facility in Ohio helps improve vehicle fuel economy by allowing engineers to eliminate sources of aerodynamic drag not only around the exterior shape, but also across the underbody, through the engine room, and around wheels and tires. By combining Computational Fluid Dynamics simulation techniques with wind tunnel test results, engineers reduce aerodynamic drag very early in the development process, when vehicle and system designs are most flexible.
Honda R&D Silicon Valley | Open Innovation

Honda's Silicon Valley operation, which was first established in 2000, is charged with researching and prototyping game-changing innovations and harnessing new ideas and technology. Current areas of focus include connected mobility, novel human-machine interfaces, supporting app developers through initiatives like Honda Developer Studio and computer science research for vehicle intelligence. Silicon Valley engineers also spearhead the company's working relationship with Silicon Valley-based technology companies.

Honda Silicon Valley Grand Opening, 2016 Accord Reveal

Honda celebrated the grand opening of our new Silicon Valley R&D facility Thursday, July 23, 2015, using the occasion to launch the 2016 Honda Accord, the most technologically advanced Accord in history.

Wraptivo 2011 CR-Z Type-F Concept

The goal for the Wraptivo™ Honda CR-Z Type-F Concept is to evoke the notion of fun, which lies at the core of the CR-Z DNA while also giving a nod to the spirit and Honda heritage of the CR-Z. The vehicle is wrapped with Wraptivo™ Matte Black and Carbon Black Film while small accents are left in gloss black. The CR-Z acts as a canvas for Wraptivo -designer car wraps by Meguiar's to showcase its vehicle wrap options and give customizers a preview of how they can take advantage of this technology as a new way to protect their factory paint while also having the ability to easily change the look of their vehicle.

Honda Ridgeline Baja Race Truck

The Honda Ridgeline Baja Race Truck hit the desert for its first test-drive. See how the truck and engineers geared up for a ride just outside of Barstow.

Automated Vehicle Testing | GoMentum Station

Located in the San Francisco Bay Area, GoMentum Station contains 20-miles of paved, city-like roadway grids, buildings, and other urban infrastructure. Honda researchers are using the facility to test automated driving technologies using modified versions of Acura's flagship RLX sedan. New prototype sensors and cameras added to the vehicle will work hand-in hand with the extensive array of forward, reverse, and corner sensors that enable a suite of AcuraWatch safety and driver assistive technologies on the production RLX.

Honda Aero achieves significant U.S. aviation milestone

For the first time in 23 years, the U.S. Federal Aviation Administration (FAA) has issued a Production Certificate to a new company making jet engines in America. Honda Aero, Inc. is responsible for the production of HF120 turbofan engine at its new, state-of-the-art production facility in Burlington, North Carolina. Learn more about the GE Honda HF120 engine, a powerplant that delivers unprecedented performance, at gehonda.com

ASIMO Visits The Big Apple

Honda's ASIMO, the world's most advanced humanoid robot, visits New York City to take in some of the iconic sights on a Spring day in the city.

Honda R&D - Connected Vehicle Technology

Seeking innovative solutions to enhance vehicle safety, Honda is a member of the Crash Avoidance Metrics Partnership (CAMP). The main goal of CAMP is to further develop safety applications using Dedicated Short Range Communication (DSRC) for vehicle-to-vehicle and vehicle-to-infrastructure communication. These safety applications are capable of warning drivers of potential hazards coming from nearby vehicles that may or may not be visible to the driver. In conjunction with the U.S. Department of Transportation and CAMP, Honda is participating in the Connected Vehicle Safety Pilot Driver Acceptance Clinics held nationwide to assess how drivers accept and respond to this new safety technology.