March 1, 2017
Honda Latino Group Teaches Kids About Engineering
"Can you build a time machine?" Unfortunately, that's not yet possible at Honda R&D Americas Inc., but associates from the R&D Ohio's Latino Dreams...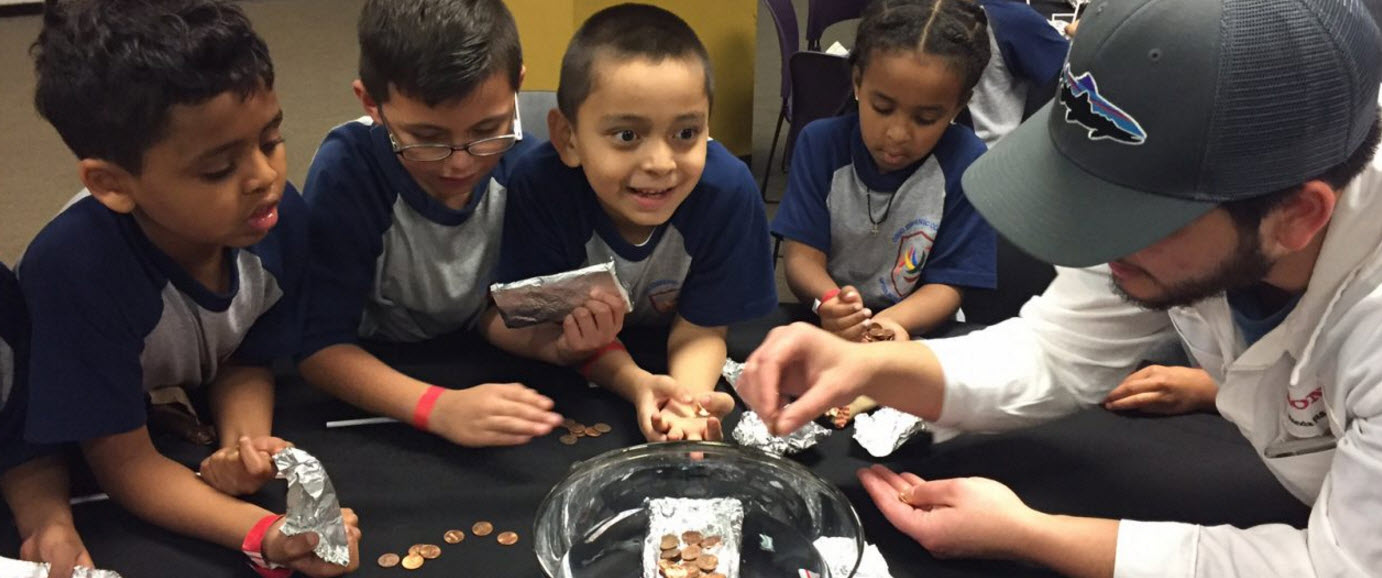 "Can you build a time machine?"
Unfortunately, that's not yet possible at Honda R&D Americas Inc., but associates from the R&D Ohio's Latino Dreams in Action (L DIA) business resource group did answer other tough questions from a group of Hispanic and Latino children on how their work is shaping the future.
The activity was part of a special fieldtrip L DIA sponsored, in partnership with the Ohio Hispanic Coalition (OHCO), to the Center of Science and Industry (COSI) in Columbus, Ohio. Nearly 75 kids, grades K-5, visited COSI to learn more about careers in science, technology, engineering, arts, and mathematics (STEAM).
"When the kids see a professional from their own [Latino] community, it opens their eyes," says Josue Vicente, executive director of the OHCO. "They say, 'I want to be someone like that.'"
And that's exactly what those children saw. During their visit to COSI, which came at the end of National Engineering Week, kids participated in "Meet an Engineer" workshops with volunteers from L DIA and other Honda companies. They also toured through Honda's "Meet the Innovators" exhibit at COSI where some engineers even explained the stations in Spanish.
L DIA aims to reach the Hispanic/Latino community and provide support and inspiration to enable them to realize their full potential. That is what led to L DIA's partnership with the OHCO, which offers after-school education programs for Hispanic/Latino children.
"Many of them are from immigrant families and have limited exposure to civic, community, and business opportunities outside their own communities," Vicente says.
L DIA founders Ricky Coria and Dillon Arellano invited Nathali Bertran-Larrea to become the L DIA community outreach chair due to her interest in the Hispanic/Latino community. Bertran-Larrea, a Latina engineers at Honda R&D in Ohio, was in charge of all the internal planning for the event.
Coria and Arellano collaborated with Vicente to help secure a $2,500 grant from Honda R&D to provide the OHCO with funds for transportation and food for the COSI fieldtrip. Through Honda's partnership with COSI, all of the tickets were also provided free of charge.
L DIA's leadership announced the trip to COSI to the kids of the OHCO program in person, because the event meant a lot to them. Coria, an exterior design engineer, is a first-generation college graduate, something he has in common with Bertran-Larrea, whose family is from Peru.
Bertran-Larrea, a closures design engineer, says she was inspired to become an engineer by programs she participated in as a student and the people and volunteers who sponsored them. "It's really important to give back, because that really made an impact."
As part of the event at COSI, K-2 students participated in a challenge to see whose foil boat could hold the most pennies. The students in grades 3-5 built a bridge out of spaghetti and marshmallows to test which one could hold the most weight. Winners received TLX die-cast models.
Fresh off this year's success, Bertran-Larrea says L DIA is already planning to repeat the COSI event next year, and she says they would like to see an even bigger turnout of Honda volunteers. "Volunteering is really important, and it can really make an impression—especially on kids."
Coria says L DIA has more plans to bring STEAM experiences to these kids, perhaps bringing the students to Honda R&D. He also says that, at Friday's COSI event, there was definitely a sentiment of, "Come work with us someday."
If only he had a time machine to look into the future. Of course, if anyone knows how to put such dreams into action, it would be L DIA.
Twitter
Error: You currently have access to a subset of Twitter API v2 endpoints and limited v1.1 endpoints (e.g. media post, oauth) only. If you need access to this endpoint, you may need a different access level. You can learn more here: https://developer.twitter.com/en/portal/product