June 20, 2017
Honda Pledges $1 Million to Nationwide Children's Hospital to Improve Mobility for all Children
COLUMBUS, Ohio – Nationwide Children's Hospital and Honda announced today a $1 million gift from the automaker to establish the Honda Center for Gait...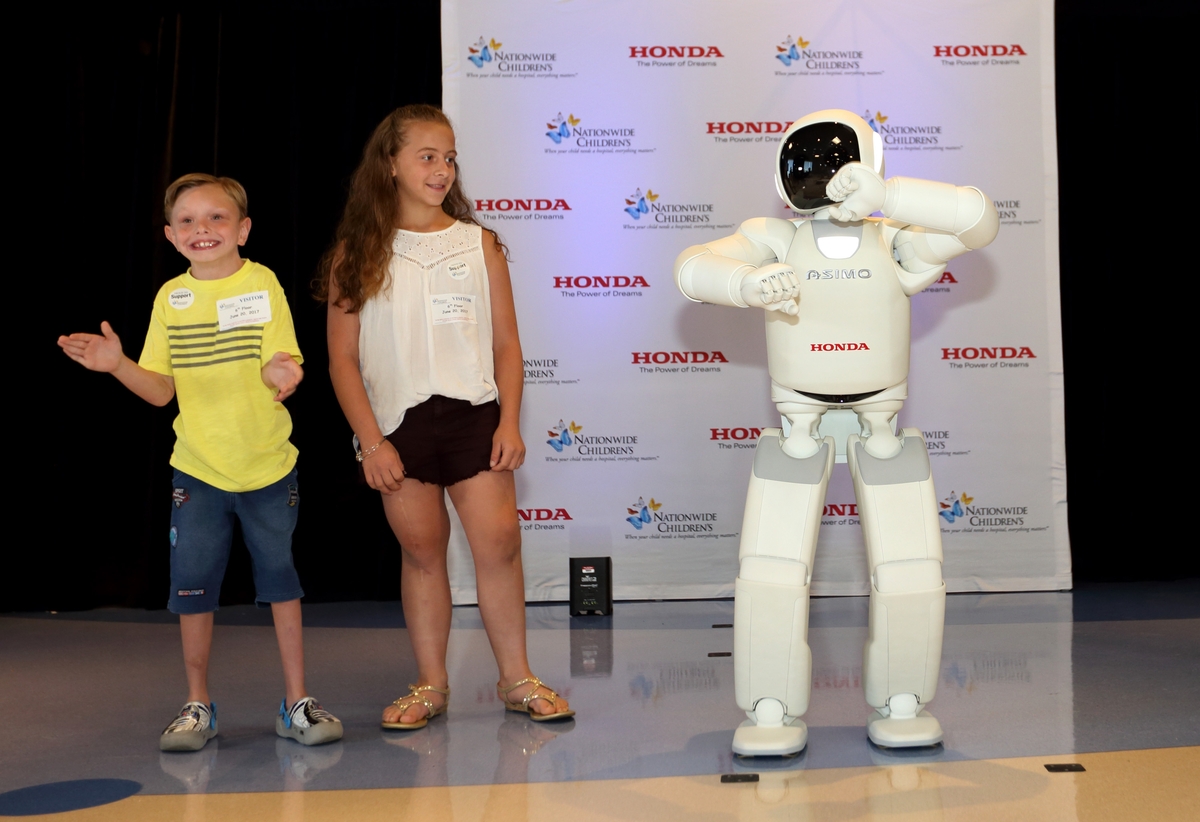 COLUMBUS, Ohio – Nationwide Children's Hospital and Honda announced today a $1 million gift from the automaker to establish the Honda Center for Gait Analysis and Mobility Enhancement designed to enhance pediatric mobility.
The center will become the first of its kind to provide not only comprehensive gait analysis, but also spine motion analysis, sports performance programs and injury prevention. In addition, it will become a leader in prosthetic and wheelchair development, completing its mission of improving the mobility of all children. This novel approach will seek and promote innovative ways to manage patients with cerebral palsy, spina bifida, spinal cord injury and neuromuscular disease, congenital anomalies and amputations, and any condition which may limit mobility.
Cerebral palsy is the most common motor disability in children, accounting for nearly 10,000 new cases annually. Another 1,500 babies are born with spina bifida each year and 1,500 children are admitted to hospitals with spinal cord injuries. Sports injuries account for about three million pediatric emergency department visits each year in the United States.
"I want to thank Honda for this generous gift that will help Nationwide Children's Hospital launch the Honda Center for Gait Analysis and Mobility Enhancement," said Jim Digan, President, Nationwide Children's Hospital Foundation. "Honda's support makes possible unique services and opportunities that will set the standard for medicine across the country."
"At Honda, we consider ourselves a mobility company – and we want our products and our philanthropy to focus on the joy and freedom people have when they have mobility," said Tom Shoupe, senior vice president of Honda of America, Mfg. "Whether motorcycles, automobiles, marine engines, aircraft, or assistive robotics, we have a long tradition of providing mobility products and so it was a natural fit to work with Nationwide Children's on a center that would work to expand physical mobility for patients."
In the quest to pursue innovative ways to treat conditions that impede motion, the Honda Center for Gait Analysis and Mobility Enhancement will harness pioneering technology. The center will use state-of-the art instrumentation, including advanced video recording techniques and 3D motion analysis cameras, force platforms and electromyography - the recording of the electrical activity of muscle tissue - to evaluate physically-challenged patients' movement, abilities and limitations.
The center will also provide additional opportunities for research within pediatric sports medicine, injury prevention and surgical rehabilitation. As additional collaborative opportunities are identified, it furthers Nationwide Children's approach to multidisciplinary research and care.
"This center will provide the opportunity to deliver life-changing clinical care to those patients limited in the their ability to walk or run, as well as maximizing the performance and mobility for athletes of all ages," said Kevin E. Klingele, MD, chief of Orthopaedic Surgery and surgical director of Sports Medicine at Nationwide Children's. "The researchers and clinicians who will be involved with the center will continue to strengthen an already collaborative spirit at Nationwide Children's, bringing together numerous clinical departments to provide the best outcomes for our patients and families, and for this we sincerely thank Honda."
The announcement took place at Nationwide Children's Hospital during a recognition event with Nationwide Children's and Honda representatives. Additionally, a special appearance by Honda's robot, ASIMO, at the announcement was an event highlight. ASIMO (Advanced Step Innovative Mobility), which is the world's most advanced humanoid robot and reflects the study of human motion and anatomy, stayed throughout the day providing special demonstrations for patients.
Nationwide Children's Hospital and Honda have had a longstanding partnership dating back more than 30 years. Most recently, Honda pledged $750,000 for the construction of "Determination Way," Nationwide Children's custom-designed simulated community that provides a real-world environment where rehabilitation patients learn how to manage daily living activities.
About Honda
Honda established operations in America in 1959 and is committed to creating products and technologies that improve the lives of people while minimizing the environmental impacts of its products and business operations to ensure a sustainable future for society.
Honda is also committed to making positive contributions in the communities where it does business, to socially responsible business practices and to the promotion of diversity in its workforce. From its involvement in STEM education and Historically Black Colleges and Universities to its support of pediatric brain tumor research and the volunteer efforts by Honda associates, including environmental cleanup activities, Honda's corporate objective is to be a company that society wants to exist. Find out more at csr.honda.com.
About Nationwide Children's Hospital
Named to the Top 10 Honor Roll on U.S. News & World Report's 2016-17 list of "America's Best Children's Hospitals," Nationwide Children's Hospital is America's largest not-for-profit freestanding pediatric healthcare system providing wellness, preventive, diagnostic, treatment and rehabilitative care for infants, children and adolescents, as well as adult patients with congenital disease. Nationwide Children's has a staff of more than 11,000 providing state-of-the-art pediatric care during more than 1.2 million patient visits annually. As home to the Department of Pediatrics of The Ohio State University College of Medicine, Nationwide Children's physicians train the next generation of pediatricians and pediatric specialists. The Research Institute at Nationwide Children's Hospital is one of the Top 10 National Institutes of Health-funded freestanding pediatric research facilities. More information is available at NationwideChildrens.org.

About the Section of Orthopedics at Nationwide Children's Hospital
The Section of Orthopedics at Nationwide Children's is committed to innovation in care, research and education. It offers specialized care from fellowship-trained faculty in the following key areas: hand and upper extremity, hip reconstruction, limb-lengthening, orthopedic-oncology, spine, sports medicine and trauma. The department sees more than 45,000 outpatient visits a year and performed over 2,600 inpatient and outpatient procedures last year. More information is available at www.nationwidechildrens.org/orthopedics.
# # #
Twitter
Error: Could not authenticate you.