October 12, 2016
Honda Power Equipment Makes Pink Lawnmovers for Charity
A little color was added to six Honda lawn mowers recently. Honda lawn mowers usually stick to a color scheme of red, black and...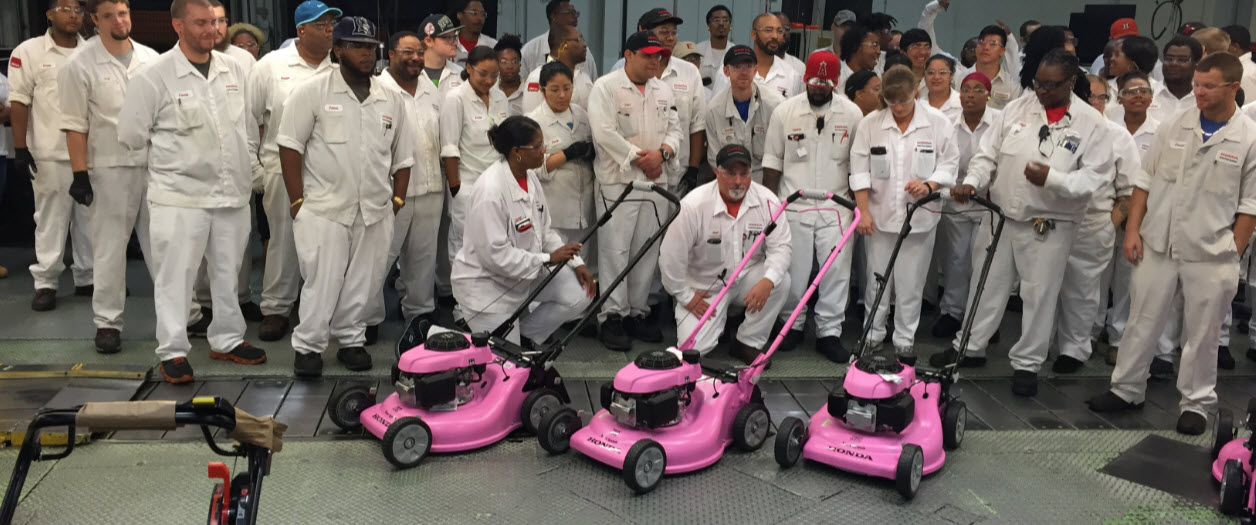 A little color was added to six Honda lawn mowers recently.
Honda lawn mowers usually stick to a color scheme of red, black and grey, but Honda Power Equipment Mfg. (HPE) associates were tickled pink when they were asked for something new and different – produce six pink lawn mowers to donate to charities to be auctioned off for breast cancer research.
Byron McBrayer, manager, Product and Business Planning for American Honda in Alpharetta, Ga., has done fundraising for breast cancer research for several years and helped come up with the idea.
"A couple of years ago when I first transferred from the plant in North Carolina to Georgia, my sister was diagnosed with breast cancer," he said, adding that he soon joined in the Atlanta 2-Day Walk for Breast Cancer. "I participated in the walk with a team and when we were walking we were talking about how we could support this activity. Last year over one of our dinners we started talking about building a pink lawn mower and make it part of a silent auction that takes place during the walk."
McBrayer took his idea to David Werden, Planning Division, HPE. According to Werden, building a few different lawn mowers was no easy feat. "First off we looked at the unit and figured out what we wanted to change to pink," Werden said. "It's not realistic to do everything in pink so we took the major components and made them pink."
Once the entire idea was worked out, however, everyone was excited to get it done, even suppliers. "Sometimes when you make a special request it's not so easy to get immediate cooperation," Werden said. "But when we told them what it was for, we got a very positive response."
"The suppliers jumped at it," McBrayer said. "Some of them donated their services, time and energy to build this pink lawn mower. The plant really got into it too. They really made it happen."
Not all special projects draw interest, but Werden said the pink lawn mowers caught many eyes at HPE. "We're so busy and are pretty much running at capacity every day and have been for three years," he said. "To do something a little bit different and for a good cause gives people a nice break … It got a very positive response."
It's unlikely pink lawn mowers will be seen cutting grass all over North America, but a few lucky people may have one in their garage. The six units will be donated to charities for auctions. One unit went to Little Pink Houses of Hope, a Burlington, N.C., nonprofit that works to promote breast cancer recovery by offering opportunities for survivors to reconnect and celebrate life. The lawn mower was part of an auction at their sold-out Dancing with the Local Stars event this month. Another pink lawn mower will be a raffle prize at the Relay for Life of Alamance County that HPE participated in with a team.
And another will go to the Atlanta 2-Day Walk for Breast Cancer, thanks to McBrayer.
"When we first came up with the idea as a team and I talked to senior leadership in our office, they were very supportive," he said. "I was just asking for one. They came back and said, 'Make a few. Make it a limited run so we can donate them to charities.' From that perspective I feel very good about this."
Twitter
Error: Could not authenticate you.